BY CHRIS MCNULTY
CAROLINE Connolly is gearing up for her swansong – and the Raphoe ABC star wants to bow out in style.
Connolly weighs in tomorrow (Saturday) for the Ulster Championships, which take place at the all-new The Venue 2013 at Ebrington in Derry city. The draw for the championships also takes place tomorrow, with boxing getting underway at the 4,000-capacity arena next Friday, January 25.
Connolly is getting ready to draw the curtain down on her career with the Ulster and Irish Championships set to be the last occasions on which she dances on the canvas.
"I'm really looking forward to it," says Connolly who will have reached the cutoff age by the time the championships come around again in a year's time.
"Maybe I'll go back to horseriding!
"Exciting times are ahead, especially as these Ulster championships are being held in Derry. They're being held at The Venue 2013 and this is the first sporting event that will be held there.
"The place is purposely built and the City of Culture thing is started now, so there is a good buzz about. This place holds about 4,000 people. There are so many people talking about going to it, so I'm really looking forward to it. I can't wait."
Caroline, Raphoe's 'Million euro baby', has been boxing for the last decade and has no hesitation when it comes to reflecting on the highlights.
"Winning titles and getting recognition for all the hard work makes it worthwhile," she says.
"Winning an Ulster title in Belfast is just an amazing achievement – and the feeling you get is unreal from that."
The world of the champion boxer can be unglamourous at the best of times. The graft to get to the top is quite the workload.
Caroline Connolly's alarm clock buzzes at 5.45am. She's out for a half-an-hour's run at 6am to get back to begin a twelve-hour shift on dark mornings at 7am. If she doesn't make it out in the morning, she does the shift at Altnagelvin General Hospital and hits the tar on her return in the evenings.
Caroline is a permanent member of the staff in Altnagelvin and her story is an inspirational one that could be looked at by so many people as an example. Through her sport, she says, she's been able to lead a better life.
"I was going to go into it when I was about thirteen and I sort of wish that I had of now. It would have kept me on the straight and narrow in a way," she says candidly.
"I owe an awful lot to boxing. It was through the sport that I got into the access course that got me into University. From there I have qualified as a nurse and am now working full-time. I put all of that down to boxing.
"I would encourage people to get into the sport – it helps give you a real focus.
"I used to drink and smoke, but I've turned my back on all of that. I'm just a social drinker now, a couple of times a year maybe. I concentrate on my fitness, my training and try to eat the right things and look after myself."
She mentions Mark Gillespie as having had a huge influence: "I have to give Mark a special thanks. He has been an inspiration through my careerr and you do need that support from work."
A native of Strabane, Caroline resisted the lure of boxing initially. When she scanned the pages of the local papers after finally deciding, ten years ago, that the sweet science was her game, she found an accomodating club hard to come by at first.
"A friend of my mother's said to me: 'Why don't you join Raphoe?'" she remembers.
"They took me on straight away. Brendan Ryan was the coach at the time. From the first time I stepped in I knew it was for me. The whole atmosphere was just right."
The new head coach at the Raphoe ABC gym Gary McCullagh recently underwent a kidney transplant operation, donating a kidney to his four-year old son, Christian. You can't weight a good man down and Gary has returned to the gym directing Caroline and the other boxers ahead of the coming tournaments.
During Gary's absence, she worked under the likes of Gerard McGranaghan, Tommy Stewart and Stephen McBride.
She's in good shape and as the end near she's got the bit between the teeth and there's a feeling that there could be one last hurrah from her gloves.
She says: "I've been pushing further and there is more intensity to my training now. I suppose, I know that it's my last year and I know I'm bowing out, so I'm thinking about that and it's spurring me on to do my best."
DONEGAL QUARTET IN HALFWAY BILL
Meanwhile, four young Donegal boxers have been confirmed on the line-up for a big night of boxing at the Halfway House in Burnfoot tomorrow evening, Saturday. Sixteen contests are lined up as part of a new initiative taken by the Ulster Boxing Council to fit in with the development pathway and talent identification programme of the Irish Amateur Boxing Association.
A top Ulster schoolboy side will take on Ireland with boxing underway at 7pm.
Illies Golden Gloves pair Eamon Sweeney and Lee Harkin are joined on the bill by Convoy ABC duo Bryan McNamee and Keenan Gibson.
McNamee fights on the Irish side at 54kgs against Gleann's Paul McCullagh.
Gibson is in 66kgs action for Ulster against St Anne's puncher Kacper Bura, while at 44kgs Harkin gloves off against Rico Dolinski (Mulhuddart) and an opponent has yet to be confirmed for 42kgs man Sweeney.
Posted: 9:30 am January 18, 2013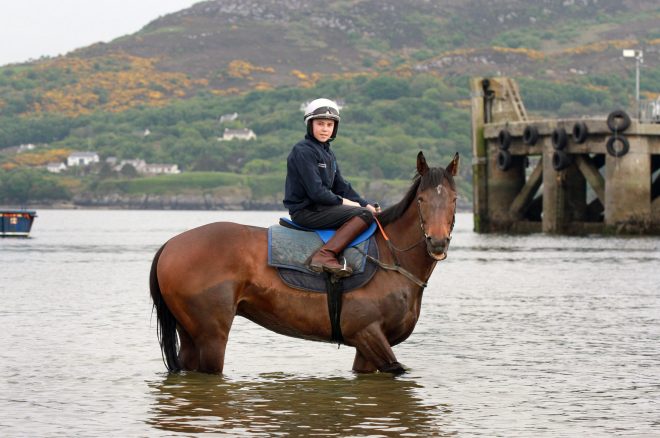 The 15-year-old Errigal College third year student landed five winners on what was the opening day of the North...
Athletes Castlederg's Sommer Lecky and hammer thrower Dempsey McGuigan - Finn Valley AC - and Raphoe's Rachael Darragh, badminton,...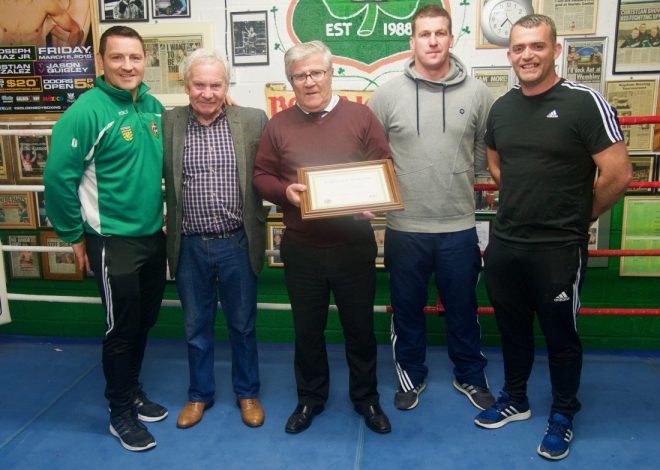 Recently Tommy Stewart was awarded with Honorary Life Membership of the Ulster Boxing Council of the Irish Amateur Boxing...