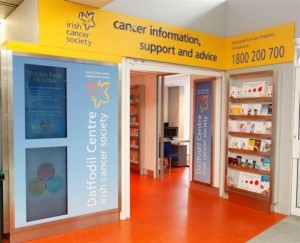 THE Irish Cancer Society has announced it is to launch a new Daffodil Centre in Letterkenny General Hospital within the coming weeks.
The Daffodil Centre marks a major investment by the Society in Donegal with an initial set up cost of €125,000 plus running cost of at least €80,000 anticipated per year. Daffodil Centres are an extension of the Irish Cancer Society's Cancer Information Services, providing information, advice and support to anybody concerned about or affected by cancer, on site in a hospital setting.
Construction on the new centre in Letterkenny is due to start in mid-March with a view to opening to the public at the end of April. The Letterkenny site is one of a planned 12 Daffodil Centres, eight of which are already established in major hospitals nation-wide.
A specialist cancer nurse with experience in cancer care will be responsible for the day-to-day management of the Daffodil Centre in Donegal. They will provide clear and accessible information on any cancer-related issue and will be supported by a group of trained volunteers from the surrounding area.
The Society is currently looking to recruit volunteers who are willing to give four hours of their time per week to the centre and interviews will take place in February.
Posted: 3:14 pm January 22, 2013