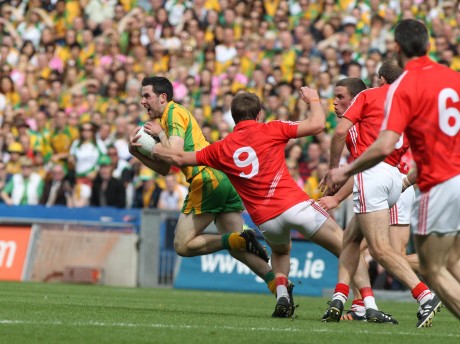 IN September 2012 he won an All-Ireland title but he remains a fiercely determined character. Starting with this month's Sigerson Cup, Mark McHugh tells Harry Walsh he won't be happy until he's winning Ulster (yes, for a third time in a row) and taking home another Celtic Cross
IT'S a cold, wintry Friday afternoon and Kilcar brothers Mark and Ryan McHugh are on their way to Sligo. Snow covers the hills but they're not going to be rushed. They've taken time to stop off in Ardara to pay their last respects to Michael 'Mick' Kennedy, Tullycleave before Mark settles down in Charlie's Cafe for a coffee and a chat about football.
In two weeks time the 'serious business' starts as Donegal lock horns with Kildare in the opening round of this year's National Football League.
Mark has played very little football since Kilcar bowed out of the Club Championship in the weeks following Donegal's historic All-Ireland final success at Croke Park. Osteitis pubis, to give it it's medical name, is the culprit.
Examinations at Sligo IT, where he is an accounting student, meant that Mark was unable to join team manager Jim McGuinness, assistant manager Rory Gallagher, his team-mates and back room staff on a recent, well deserved, 10-day holiday in Dubai.
It's been a frustrating time for McHugh but the enforced lay-off means that he's straining at the leash to get back onto the football field.
First up, should he receive the green light from the doctors and physios, is a Sigerson Cup game away to Maynooth on January 29, followed by a game with Kildare in Croke Park four days later.
"I'm getting closer and closer to a return. I was up in Santry with the doctors on Thursday and everything is going according to plan. It's improved a lot and I was able to go back and do a bit of running this week," he said.
"The target is to play in both the Sigerson and the National Football League. I don't know if it is a realistic target – we'll just have to wait to see what the doctor says," he added.
The injury, which has led to a three-month spell on the sidelines, first raised it's ugly head during the semi-final win over Cork.
"It's an overload thing and I didn't do a lot of training after the Cork match to be honest. I tried to rest it and, after the All Ireland, I went back and played Championship football for my club (Kilcar).
"It was really bad at the start – so much so that I found it hard to get out of bed in the morning – but I've been resting it these past few months and there's a definite improvement," he said.
Footballers don't like to get injured but if there is a good time to be out it's through the winter months.
The summer of 2012 is one which will not be forgotten too easily in the McHugh household as Mark joined his father Martin and uncle James in becoming an All-Ireland champion.
Before that, however, Donegal pitted their wits against many of the top teams in the country in the National Football League.
McHugh believes that the NFL programme played a pivotal role in what they would ultimately achieve come September.
"The League started off really badly for us last year. We went up to Newry and got beat by Down before we got a very bad beating at home to Laois and it didn't look good at all at that stage to be honest with you.
"That said, we were missing a lot of players at start of the league – no more than this year as there are a lot of boys missing coming up to the league – but Jim's teams are set up in such a way that no one man is bigger than the team.
"I've great belief in the league. Playing in Division 1 against the best teams is going to help you throughout the summer. You need to be playing Division 1 football come Championship time because, otherwise, you are not at your full level. That stood to us last year but if you look at the previous year (Division 2) you will see that we probably got caught out against Dublin in the All-Ireland semi final. We hadn't played a Division 1 team the whole way up until that day and it hit us," he said.
Looking forward to this year's campaign, the Kilcar play-maker said that their initial goal for 2013 is to maintain their Division 1 status.
"It's where we want to be. You're playing the best teams in Ireland – the likes of Kerry, Cork, Tyrone and Mayo – and there's no easy games but it leaves you that little bit sharper come the Championship," he said.
The McGuinness led Donegal team proved to be the sharpest team around in 2012, culminating in Sam making his way back to the hills for only the second time. One of the most iconic images from that September Sunday was the embrace between Mark and his father Martin in the seconds after the final whistle was blown.
"We were just like any father and son after a game but in our case it was a private moment played out in public because the cameras were there. It was great that I managed to see him at that time because he had to do the Sunday Game (RTE) and I mightn't have caught up with him until midnight otherwise. I gave my mum (Patrice) an equally big hug a few minutes after that," he laughed.
What followed in the days and weeks following that dramatic afternoon is something that will live with Mark and the Donegal players for the rest of their lives.
Could he handle another whistle stop tour of the county with Sam in the closing days of September 2013?
"I probably didn't think it would be as mad as it was but there's a great tradition of football in Donegal and, having only won it once before, I supposed we were all entitled to enjoy it.
"It was great for the people of Donegal to live through it. In the coming years they can say they saw Donegal win an All-Ireland. For the players it was a once in a lifetime experience but hopefully it won't be too much longer before we do it again," he smiled.
"To answer your question though, I do think we could hack it if it came around again. First of all, I think we would be more prepared for it. We had so much fun leading up to it last year. We were enjoying playing football. It was something that the team had never experienced before – apart from Jim. This year we'll build on that, take on board the experiences and push on," he said.
YOUNGER BROTHER
Joining Mark on the Donegal senior football panel in 2013 is his younger brother, Ryan.
"Fair play to him. He's worked really hard on his game and he played well for the Minors (Donegal) and Kilcar senior team last year so he's deserved his chance. Since he's got the call up I've never seen a man who's buzzing as much. He's worked really hard but, more importantly, he'll be a wee bit of company for me going up and down to training," he said.
Ryan is also a student at Sligo IT and the pair will commute to training twice a week.
"Last year I must admit I didn't look forward to leaving lectures in Sligo at 5pm to face into a long drive back home but we can share the run this year. If he's good enough and shows well at training I've no doubt Jim will give him his chance," he said.
While Ryan and Mark are members of the 2013 Donegal senior squad, their two first cousins Eoin McHugh and Pauric Carr, have also worn the green and gold jersey this year as both were handed senior debuts during the McKenna Cup campaign.
"We're all from a small parish and I don't know how they keep doing it. Last year in Cavan (first round of the Ulster Championship) there were six Kilcar players involved – Ryan (McHugh), Eoin (McHugh), Stephen (McBrearty) and Aidan (McGinley) with the minors and me and Patrick (McBrearty) with the seniors. It's a credit to all the work being done by the managers and coaches in Kilcar," he said.
SIGERSON CUP
The McHugh brothers are expected to line up alongside one another next week in the Sligo IT colours as they open their Sigerson Cup campaign.
"I finished the exams on Tuesday thank God. The boys have been training for the Sigerson Cup but I haven't had as much time to train with exams and injury but I would be confident enough we'll do well in the competition if we have all our players back from injury," he said.
Will he find time for a holiday between the Sigerson and NFL competitions and the start of the 2013 Championship?
"I could always have deferred the six exams I had back to August and gone with the boys but then they would have been smack bang in the middle of the club season and, hopefully, the County season. Also, I would have put too much pressure on myself so I decided to give the trip to Dubai a miss and concentrate on my studies.
"With all the stuff I've missed I'm hoping to spend the next few weeks working on regaining my fitness. The focus now is to get back training and on getting as sharp as I can," he said.
What are his hopes and aspirations for 2103?
"To win the Sigerson, retain the Ulster and All Ireland and win the County title with Kilcar," he said.
Seriously?
"Absolutely. I hate losing and I'm not going to change now," he said.
It is the fear of losing which is a motivating force for McHugh and all who pull on the Donegal jersey these days. I wonder how many of those goals will have been achieved when we sit down for coffee this time next year?
Posted: 9:05 am January 21, 2013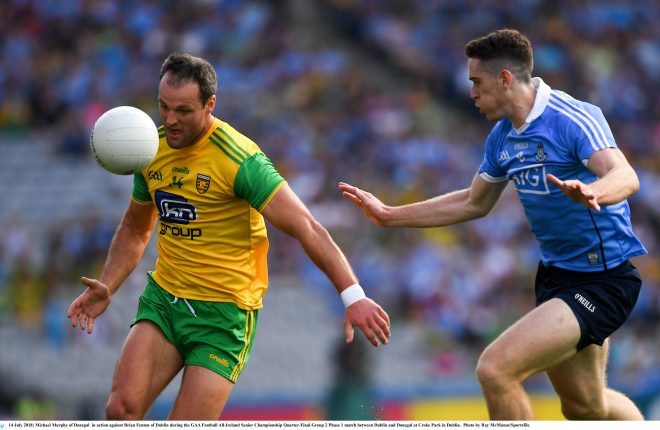 Dublin too strong in Croker.