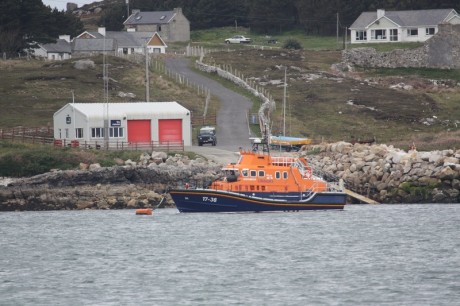 DONEGAL'S three RNLI lifeboat stations saved the lives of 68 people last year according to statistics released by the RNLI this week.
Arranmore RNLI launched 32 times and saved the lives of 29 people. Lough Swilly RNLI station launched 35 times and rescued 25 people while Bundoran RNLI launched seven times and rescued 14 people.
The returns from the lifeboat stations for last year show that Arranmore launched in the dark 19 times while Lough Swilly's two boats carried out 17 rescues in the dark. The all-weather off-shore Lough Swilly vessel attended 14 rescues while the smaller in-shore boat did 11.
Right around the island of Ireland the RNLI's 44 stations launched 939 times in 2012 bringing 1,041 people to safety. 
The figures show that the majority of call outs were to pleasure craft, which accounted for 482 of the call outs, while launches to fishing vessels were 115.
Dun Laoghaire RNLI brought the highest number of people to safety with 76 individuals rescued by their volunteer lifeboat crews during 46 call outs. They were followed by Kilmore Quay RNLI in county Wexford, who brought 71 people to safety on 29 call outs.
The busiest RNLI lifeboat station in Ireland last year was Bangor in County Down, which launched 53 times and rescued 53 people. Over half of their call outs were carried out in the hours of darkness. 
Other busy stations include Crosshaven RNLI in Cork where lifeboat crews launched their inshore lifeboat 42 times and rescued 31 people.  
Baltimore RNLI – who, along with Kilmore Quay RNLI, operate Ireland's two Tamar class lifeboats, the most technologically advanced lifeboat in the Irish fleet – launched their two lifeboats 41 times, rescuing 41 people.  They also carried out almost three quarters of their call outs in the hours of darkness. The second Dublin all weather lifeboat station based in Howth, launched 40 times and rescued 48 people.
The RNLI's newest lifeboat station at Coosan Point, Athlone on Lough Ree, which is currently on a one year trial from last June, had a busy first six months launching 14 times and bringing 18 people to safety.
RNLI crews had 122 call outs to people classed as being 'ashore'. This figure incorporates launches to people who are ill or injured on an island, cliff or the shoreline, where access by lifeboat is the fastest or safest way to reach the casualty. 
It also includes medical evacuations from the islands off the coast of Ireland by lifeboat, which is a vital part of the service given by lifeboat stations such as Arranmore Island.
In comparison with the 2011 statistics, 2012 saw a slight drop in lifeboat launches from 980 to 939 but a rise in people rescued from 905 to 1,041, an increase of 136 in the twelve month period.
RNLI Operations Manager for Ireland, Martyn Smith, said the figures showed that their volunteers dedicate a huge amount of their time to saving lives at sea. 
"To know that they are on call every day of the year is reassuring for all of us who venture out to sea and on loughs around Ireland. While many call outs can be challenging, our volunteer lifeboat crews take the responsibility of bringing loved ones home very seriously. As the figures show, last year they were able to do that for 1,041 people. 
"Not every call out is to save a life but the comfort and reassurance our volunteer crews bring to those in trouble is something the RNLI is very proud of and will continue to provide through the generosity of the public. I would like to say a huge "thank you" to all those who support the RNLI, whether by giving up their time or by making a donation," Mr Smith said. 
Key RNLI figures in 2012
On average 20 people a week were rescued by RNLI lifeboat crew in Ireland. Altogether Irish lifeboat crews spent over ten thousand hours at sea on call outs. 
51 per cent of lifeboat launches were to power, sail and manual pleasure craft. 14 per cent were to commercial craft (fishing boats and other commercial vessels). 200 of the lifeboat launches were to boats with mechanical failure and 73 call outs were to stranded or grounded vessels.
95 per cent of the RNLI's crew members are volunteers. The RNLI in Ireland has 2,000 volunteer crew members, 500 volunteer shore crew and station management and 3,000 volunteer fundraisers.
Posted: 12:05 am January 22, 2013