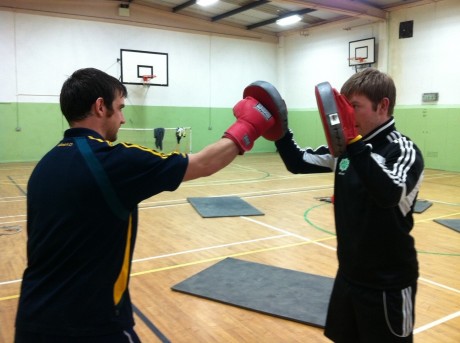 Sparks are sure to fly on Saturday, February 23 when CLG Ard an Ratha's heaviest hitters abandon the field of play to face off inside the squared circle.
Billed as 'Saturday Night's Alright for Fighting', the Blue Haven will play host to 16 of the club's top sluggers plus two very special guest 'outsiders'.
The contestants are currently being put through their paces by trainer Gerard Given and will form a nine-bout boxing card that is brimming with power, pace and punch.
Parochial punch-ups are a plenty while a number of old scores will finally be settled when these 18 scrappers square off inside the ring.
Naomh Columba's Kevin McNern and Killybegs' David Conwell are sure to face a hostile 'welcome' from the partisan crowd – but both men won't care in the slightest as they look to introduce their fists to their respective opponents' heads and ribs next month.
McNern pits his wits against Oisin O'Donnell while Conwell goes toe-to-toe with Paddy Gallagher.
One of the most eagerly anticipated match-ups of the night sees Matthew Whyte and David Classon collide, while All-Ireland winner Paddy McGrath is aiming to take out the slick heeled Gareth Concarr.
Conor Classon's clash with Kenneth Doherty is another one that really whets the appetite and it might well take the judges' scorecards to separate these two.
Mark Cassidy and Peter McHugh will put their long-standing friendship aside in a duel that, on paper at least, looks almost too close to call. Having recently returned from Australia, Marty Herron will step into the ring with Kevin 'Bishop' Breslin.
The coming together of Stephen 'Red' McHugh and Stephen Boyle competes the card. And fuel was added to that fire on Friday night when a sparring session between the pair got a little too heated resulting in trainer Given stepping in to separate the pair. A cooling off period in different ends of the hall was issued to the pair. But you can bet the competitive venom will seep to the surface once again when they get it on, on February 23.
This Fight Night will be the first in a number of fundraising ventures undertaken by CLG Ard an Ratha following the recent commencement of construction of their new state-of-the-art club house at Pearse Memorial Park.
Final and confirmed line-up for Fight Night.
Kenneth Doherty vs. Conor Classon
Matthew Whyte vs. David Classon
Peter McHugh vs. Mark Cassidy
Eamon Breslin vs. Paul Watters
Kevin McNern (N. Columba) vs. Oisin O'Donnell
Marty Herron vs. Kevin 'Bishop' Breslin
Stephen McHugh vs. Stephen Boyle
Gareth Concarr vs. Paddy McGrath
Pat Gallagher vs. David Conwell (Killybegs)
Tickets, priced at €15, are on sale now and are available in Divers Newsagents. A number of top prizes and giveaways will also be up for grabs on the night. Music and entertainment will follow. For more information contact the organisers on 087 7859451.
Posted: 7:16 pm January 22, 2013