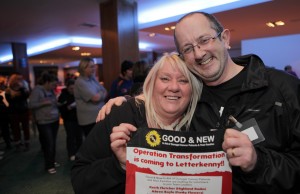 By Kate Heaney
OPERATION Transformation took off in Letterkenny this week with almost 200 people registering to undertake the challenge and at the same time support a cause close to many peoples' hearts.
The get slim/get fit challenge pioneered by RTE has captured the imagination of people country-wide with at least two groups now running in Donegal. Termon's Craoibhín Community Centre  began their second year of the challenge last week.
The Letterkenny group was the brainchild of Lynn and Eamonn McDevitt who run the Good and New Charity Shop at Joe Bonner Road which raises funds to operate a bus for cancer patients travelling to hospital in Galway.
Speaking to the Donegal News this week Eamonn McDevitt said they were overwhelmed by the response to the challenge they put out.
"We held the weigh-in on Monday night and were amazed when 183 people turned up and registered at the Station House Hotel and then we had another 12 in the shop the next day wanting to join.
The initial team leaders to step forward were Keith Fletcher, Aileen Boyle, Joe McElhinney, Lynn, James Green and Brigde Diver.
Because of the large number involved we will now appoint more team leaders.
"Everyone will pay €40 towards the eight week programme which will go towards keeping the cancer bus on the road to take patients to Galway twice a week.
We are very grateful to the Clanree Hotel, Aura Leisure Centre and those gyms who offered their facilities for free," Mr McDevitt said.
Posted: 2:46 pm January 9, 2013