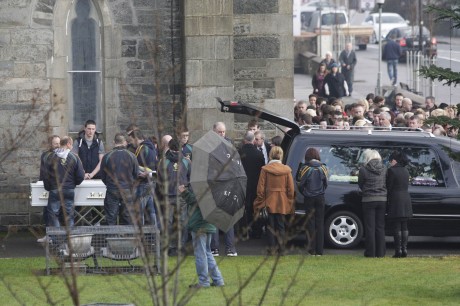 BY C.J.MCGINLEY
THE priest officiating at the funeral mass of Shannon Gallagher (15) on Saturday in Stranorlar, called on the government and state agencies to drastically reform a 'broken system'
Fr John Joe Duffy, delivered a damning homily as he conducted the funeral mass for the 15-year-old schoolgirl, just six weeks after he buried her sister Erin (13).
Both sisters were found dead after taking their own lives. In a hard hitting and emotional homily in St Mary's Church, Fr Duffy, claimed 'the sytems the methodologies used by the HSE, other state agencies and professionals were failing to protect young people and the most vulnerable adults on the margins of society'.
"Hiding behind professionalism and qualifications or the inertia of being able to change rules, legislation or regulations is simply not acceptable, when so many lives getting younger have being tragically and needlessly lost.
"I am now calling upon someone in Government to take a hands on role and to do what it takes. Whatever that is to combat what is the most serious problem affecting our country and so many of our families and communities with such devastating consequences.
"The time for talking is over. For the sake of all people on the margins or in similar circumstances, for the love of God, let some one person in Government take leadership and reform what is clearly a broken system," he said.
Posted: 7:03 pm December 16, 2012