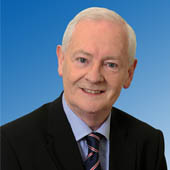 HOUSEHOLDERS in Donegal who require an upgrade of their septic tank and waste water treatment systems will now be eligible for a grant, the Environment Minister announced this week.
Deputy Dinny McGinley, welcomed confirmation from Minster Phil Hogan TD, that a grant scheme is being established to provide financial assistance to householders whose systems need upgrading.
Minister McGinley said: "Septic tank inspections are due to get underway in the New Year, and this announcement that grants are to be made available for remedial works will provide extra reassurance to householders. The reality is that the vast majority of septic tanks will pass inspections. But for the minority of those that do require remedial works, this grant will be of great assistance.
He outlined that grants of up to €4,000 will be made available to householders who need to upgrade their treatment systems.
"This will go a considerable way to ensuring that the remedial works will not place undue financial pressure on the householders involved. Domestic tanks and other waste water systems should be registered by February 1st next; and it is important to add that only householders who register their systems will be eligible for a grant," he added.
"The majority of septic tanks are working well, but those that aren't pose a threat to our drinking water supplies. Ensuring we have effective waste water treatment systems is essential for the environment and for our economy.
Posted: 12:40 pm December 18, 2012