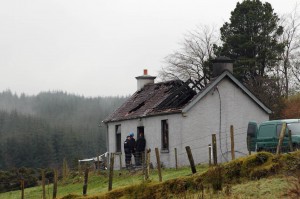 By C.J.McGinley
THE 68 years-old Letterkenny man who died in a tragic house fire on the outskirts of the town, was yesterday (Thursday) described as a 'kind, obliging neighbour and friend'.
Mr Terry McDermott, a bachelor from Glenkeogh, Killyclug, who lived alone, died after a fire ripped through his small cottage shortly after 9.15pm  on Wednesday night.
Yesterday, a senior garda leading the investigation,  said the source of the fire appeared to be a gas heater which was positioned close to the body.
They do not suspect foul play, but forensic officers combed through debris of the burned-out cottage yesterday morning as part of their investigations.
Speaking to the Donegal News, Councillor Ciaran Brogan, a family friend, said people in the area were numb with shock.
"Terry was a kind, obliging person and a great neighbour and friend," he said.
"He was a very civil man, who was always there to lend a hand to people in the area, who often called on his help as a handy man and farm labourer.
Neighbours and friends are shocked with his death and our thoughts and prayers are with his relatives and family friends at this difficult time," he added.
Mr McDermott's remains were removed to Letterkenny General Hospital yesterday morning for a post mortem examination.
Posted: 1:21 pm December 20, 2012