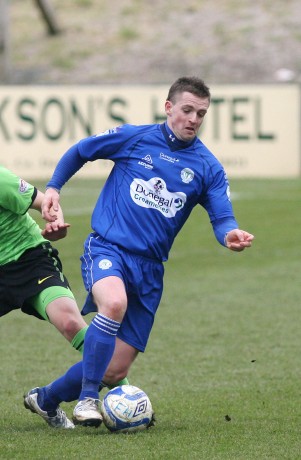 By Aidan O'Donnell
Finn Harps boss Peter Hutton has revealed negotiations are ongoing with several players from 'outside' the club about the possibility of joining his squad for the 2013 Airtricity League of Ireland season.
Hutton has so far retained 11 players from last year's squad – Shaun McGowan, Keith Cowan, Thomas McBride, Ciaran Gallagher, Ciaran Coll, Aaron O'Hagan, James Doherty, Paul McVeigh, Gary Merritt, Michael Funston and Jordan Duffy.
The Harps manager said the club are still in talks with some of the remaining members of last year's squad, including skipper Kevin McHugh, and is also hopeful of landing a few signings from outside the club between now and the start of pre-season.
"It's been quiet enough – we're still in discussions with a couple of players, as well as talking to 3 or 4 from outside the club as well," said Hutton, whose side will report back for duty in the first week of January.
He added: "We'd be hopeful of bringing in a few more from outside the club, although there are no guarantees. It's realistic in the current climate that players will keep their options open for as long as possible.
"Obviously we'd like to get the squad tied down as soon as possible ahead of pre-season. We've gone about our business in the right way, we've contacted the respective clubs about certain players so we'll just wait and see what happens.
The club are holding a Special General Meeting in Jacksons Hotel, Ballybofey on Sunday night (7.30) when the current board are expected to appeal for support from the existing shareholders and supporters ahead of next season.
Chairman Joey O'Leary said the club would do all they can to achieve promotion back to the top flight of Irish football for the first time since 2008.
"Joey and the board are working hard to give us the resources to be competitive," said Hutton."Hopefully they can garner the support they need to drive the club forward."
The Harps boss was satisfied with the manner in which his side ended the 2012 campaign and feels if they can add a little strength in depth to the current panel to ensure they maintain a competitive edge throughout, they won't be a million miles away from the top of the First Division next year.
He said: "We'll probably need a competitive squad of 22 players along with whatever amount of players we use from the U19's. It's a long, hard season and the First Division is very physically demanding so you're going to get injuries and suspensions throughout.
"It's important you have competition for places in every position if you want to challenge for the league.
"The players were busting a gut near the end of last season. They were trying really hard in every single game and can't wait for the new season to start now. So it's important that we maintain that momentum through the off-season.
"The boys have already started individual programmes with Michael Black and Adam Speer, who have come on board for the season. They did great work with the Donegal squad and the players are already saying they can feel the benefits of what they've done so far."
Posted: 1:31 pm December 13, 2012