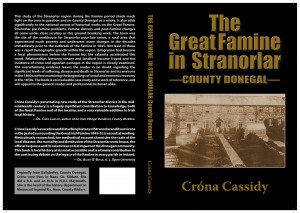 THE first ever book dedicated to life in east Donegal before, during and after the Great Famine has just been published.
A large crowd attended a very successful launch of 'The Great Famine in Stranorlar, County Donegal' by local woman, Ms Cróna Cassidy, in the House of Books, Ballybofey, last Saturday.
This study of the Stranorlar region, which includes an area from Glenfin down as far as Lifford and Raphoe, sheds much light on the area and on County Donegal as a whole.
It also adds significantly to the national body of historical works on the Great Famine.
The book scrutinises Stranorlar's pre-Famine problems, Famine distress and post-Famine changes and contains a wealth of meticulously researched local historical material.
The book covers many strands of local history including political, economic, demographic, social and ecclesiastical.
Comprising 180 pages, the first chapter looks at the reasons for the changing fortunes in Stranorlar's local economy and the local community leaders' response to the increasing impoverishment following the recurrent subsistence crises and the starving summer months of a rapidly growing population.
Chapter two examines the effectiveness of relief measures, such as public works (roads, building work and drainage) and food depots which were provided by the local landowners in an effort to relieve the distress of the union.
These inadequate relief measures led the government to rely on the Poor Law Union to relieve the destitute in the workhouse and with outdoor relief.
Faced with mounting pressures, the inefficiencies and inadequacies of the poor law system came to the fore and served only to exacerbate the suffering of the workhouse population.
The minute books highlight the limited powers of the guardians and tensions which arose over decisions made by the Poor Law Commissioners.
The third chapter analyses developments in Stranorlar and its hinterland in the two decades following the catastrophe.
The loss of population and housing resulted in diminished rentals which led to a changeover to pastoral agriculture.
The consequent lack of local employment opportunities in both the agricultural and manufacturing sectors contributed to the continued exodus and increase in the overseas community from Stranorlar.
Priced at just €15, the book is available in local outlets including the House of Books and the Book Centre, both located in Ballybofey, as well as selected shops in South Donegal.
'The Great Famine in Stranorlar, County Donegal' would make an ideal Christmas present to anyone with links to the Twin Towns and to the wider east Donegal region.
Posted: 4:23 pm December 17, 2012