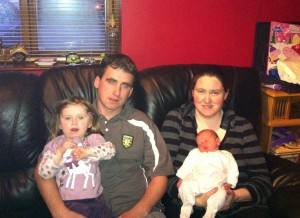 BY HarryWalsh
BABIES will make their way into the world whenever they're ready.
Just ask Carrick man James Byrne and his partner Jennie Doherty who frantically delivered their daughter Aoife in their sitting room in the early hours of Saturday morning.
For Jennie, the nightmare of every pregnant woman came true, when she found herself at home  with her strong-willed baby declaring its determination to be born – now – at 2.20 am!
With a good hour and a half drive to Letterkenny General Hospital, James realised that he had to act quickly and dialled 999.
Suddenly the couple were no longer alone because they had the reassuring company of a paramedic at the other end of the mobile phone.
Their baby daughter, Aoife, was born during the tense six minutes the two men were in conversation.
James was still buoyed and delighted about Saturday morning's events when he spoke to the Donegal News yesterday.
"Jennie was very tired that night. She knew the contractions were coming quite close together but we were told to wait until they were coming every ten minutes.
I had just taken our other daughter, Ciara, to my sister's house and had the bags packed ready to go but when I came back into the house Jennie said her waters had broken.
"I realised that we wouldn't make it to hospital in time so I phoned 999.  The man I spoke to – I still don't know his name – was very good.
I put the phone on speaker and went to fetch some towels and a blanket. He talked me through it and when Aoife appeared I was told to check that the cord wasn't around her neck, which it wasn't, so everything was good.
So I cuddled her and then a few minutes later the ambulance arrived and they took over and I calmed down a bit," James said.
Posted: 8:00 pm December 13, 2012