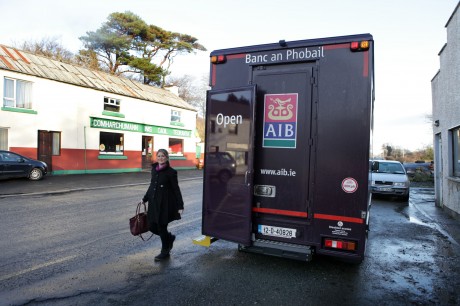 By Harry Walsh
IT'S a case of back to the future for bank customers with the arrival of a new AIB Community Bank Service for Donegal this week.
Despite the fact more and more people now bank online, the 'human touch' remains vital. With AIB closing half of its Donegal branches in the coming months, the mobile bank service will be available in ten locations throughout the county.
On Wednesday, Budget Day, the new service was in Glenties, Ardara and Fintown. Staffed by Susan Stephenson and Noreen Doherty, the service parked up for half an hour in each of the three locations.
In Fintown, two ladies on their way to do some banking in Letterkenny were both surprised and delighted to see the mobile bank parked outside the co-op.
"That's just saved me a journey. I think the mobile bank will work well and, who knows, it may allow them to build long-term customer relationships and grow revenues through the personal touch – something they seem to have neglected in more recent times," one woman said.
It's almost twenty years since the last AIB mobile bank was taken off the road. At one stage there were three mobiles banks in Donegal, two operating out of Letterkenny servicing Inishowen and North West and one out of Donegal for the south of the county.
One of the old AIB mobile banks was customised in 1991 to become what was, at the time, the home to Ireland's only mobile barber, Eamon Friel, who recently hung up his scissors after 20 years on the road.
"The mobile banks is geared more towards the personal market. It isn't intended to be a branch on wheels. It must be remembered that nine of out every ten transactions are now conducted on line," a spokesperson for AIB said.
The new AIB Community Bank Service for Donegal which will provide the following banking services to customers:
· Cash and coin lodgements
· Cheque lodgements
· Cash withdrawals
· Bill payment
· Foreign Exchange order/collection service
This Service will be available in Ardara, Castlefin, Convoy, Dunfanaghy, Falcarragh, Glenties, Gweedore, Lifford, Milford and Raphoe.
Posted: 10:41 am December 7, 2012