By C.J.McGinley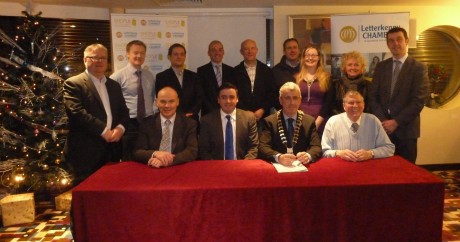 BY C.J.MCGINLEY
LETTERKENNY is fast positioning itself as the premier retail capital of the north west and has set in place structures and strategies to further develop business, economic and social links in 2013.
This was the clear message from the re-elected President of Letterkenny Chamber of Commerce at the AGM held in Gallagher's Hotel on Tuesday night.
Mr John Watson of John Watson of Watson Home, Hire & Hardware, was re-elected to the post unopposed for a second year. Speaking to the Donegal News, immediately after the meeting, the President said he would work with all members and stakeholders to 'drive' business growth in the town. They would also lobby strongly in areas such as the sick pay scheme, infrastructure deficits and incentives for businesses'.
"Letterkenny is a vibrant town with a great range of businesses' and shop from small, family run operations to large multi-national chain stores. The variety of shops, competitive prices and favourable sterling exchange rates are drawing customers from all over the north west and neighbouring counties such as Derry, Tyrone, Fermanagh and as far away as Antrim to our town, While this has once again been a challenging year for the business community, we can see the strong marketing work we're doing, starting to pay off," he said.
Posted: 1:31 pm December 12, 2012