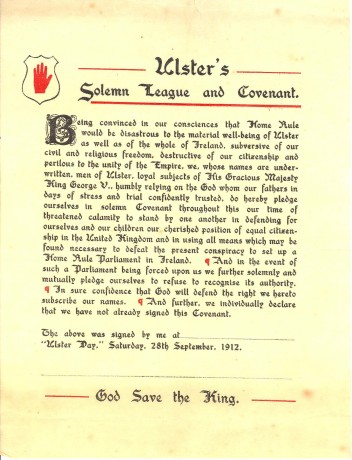 HISTORY buffs in Donegal will get a chance to learn more about the Ulster Covenant and its place in Donegal History at the County Museum inn Letterkenny next week.
The talk 'The Ulster Covenant and its Place in History' by Dr David Hume is on Thursday, November 29 at 2pm in the County Museum on High Road and admission if free.
Almost 18,000 Donegal people signed the covenant against Home Rule 100 years ago in September.
This talk will look at the background to the Home Rule period, the context of the Ulster Covenant and the events surrounding it and the place which the Covenant has in Irish history.
Dr Hume MBE is the Director of Services of the Grand Orange Lodge of Ireland.
Everyone is welcome. For further information contact the museum  on 074 9124613 or email museum@donegalcoco.ie.
Posted: 11:31 am November 20, 2012