BY SEÁN P. FEENY
THREE West Donegal men recently returned from the adventure of a life-time having trekked through the foothills of the Himalayas for over a month.
Aidan McGinley and his father Seán, both from Braade, joined Mohan Nepal, an adopted son of Crolly, as he took them to his native India and half-way up the third highest mountain in the world.
Mohan, originally from Sikkim, on the Nepalese border, has been living in Donegal since April 2011 with his wife Carol (nee Wilson), originally from Meenaleck.
The couple, who have two children (Lily, 3, and Harri, 1), run the well-known Sleepy Hollows camp site, in Meenaleck, while Mohan has also taken to the hills of Donegal with his other business, Trekking Donegal.
This comes as no surprise when you consider that Mohan was a Sherpa [mountain guide] in Sikkim and it was through this that he met his future wife while she was on an Everest Base Camp charity trek for the HOPE Foundation in 2008.
Since making the move to Donegal, Mohan has taken many people on guided walks around the county and became friends with Aidan McGinley, who grew up with Carol and is friends with her brother Tony.
Aidan is also well-travelled, having lived in the Iraqi region of Kurdistan where he taught English, before moving to the Kingdom of Lesotho, an independent country situated in the heart of South Africa, where he worked with the United Nations.
On his return to Ireland in 2009, Aidan stepped into his father Seán's shoes and trained as a national school teacher.
Seán, who retired from his teaching post at Annagry NS last year decided to join Mohan and Aidan on the trip.
They planned the trip so far ahead they never suspected they would just miss Donegal's All-Ireland final win, with their flight going the day before the final.
Aidan said: "We travelled to the town of Yuksom from where we left for Kanchenjunga (8,586m), the third highest mountain in the world. We climbed for seven hours a day for two days to reach base camp at 4,400m.
"The trek was really, really tough but once we finally got to base camp, your felt a real sense of achievement. We had to cut it to three nights though because we were all suffering from altitude sickness and this can be quite dangerous."
But before they left the camp, they did manage to mark the occasion by posting an Irish flag.
"We had to put away the Donegal flag because people thought that it was a Christian missionary flag with a big red cross framed in the middle of the crest," he laughed.
A real highlight during this trip for the Donegal men was seeing Mohan's village, meeting and staying with his family and witnessing the natural beauty, forests and mountains.
"It was just amazing, it's great to see a place through the eyes of a local. The people there are completely different, they are so calm.
"Even Mohan's family, who hadn't seen him in some years, were calm when they saw him, there was no jumping around and shouting and they were very polite," he said.
After spending ten days in Mohan's region, which was a real bonding experience for father and son, Aidan and Seán also got to travel around other parts of India and visit historic sites such as the Taj Mahal and Jaipur before coming back home.
"When you consider the harsh environments you have to go through, it is very bonding, life is very fragile in a place like base camp, so it does bring you closer.
"We would definitely recommend visiting Sikkim, it is so beautiful, as opposed to Delhi which is just a big, hectic city where you don't get any peace."
Mohan is, in fact, already planning next year's trip to India, Aidan said: "This time he is hoping to get maybe 12 or 15 people to go to Goa, a beautiful coastal region with white sand beaches, and then it's back to the mountains in two years time."
www.facebook.com/trekkingdonegal
Posted: 9:49 am November 9, 2012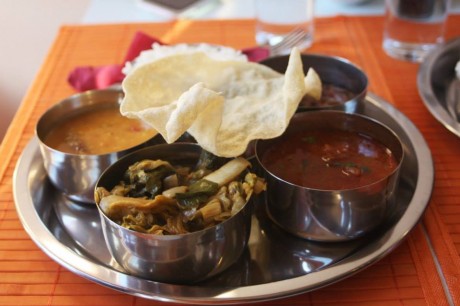 A YOUNG West Donegal couple have been attracting food lovers from all over the county to their new cafe...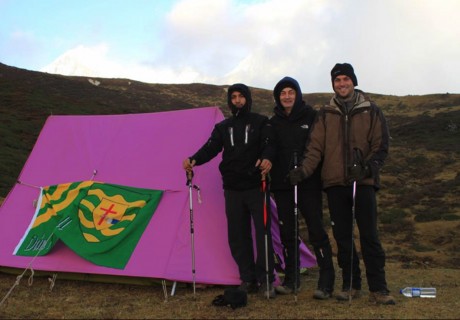 A WEST Donegal-based genuine Indian mountain guide is taking a group a trekking enthusiasts to the Himalayas for the...