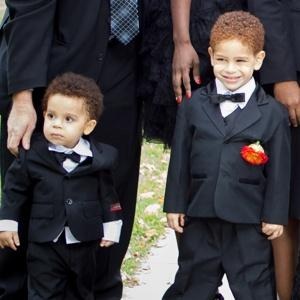 Exclusive by CJ McGinley
A PORTNOO priest has described as a devastating tragedy the loss of a local man's two young sons in Hurricane Sandy in the USA.
Damien Moore, who is in his mid 40s, and a native of Loughfad, Portnoo, lost his sons Connor (4) and Brandon (2) after they were swept from the arms of their mother during the Hurricane in New York's Staten Island.
Damien's parents, Paddy and Fay, retired back to live in Paddy's native Loughfad after spending a large part of their life in the US. Damien's brother, Patrick, lives in England but was a former boarder student at St Eunan's College in the late 1970s.
Speaking to the Donegal News, Fr Philip Daly has been comforting the heartbroken and devastated' grand-parents, who are in their mid-70s.
"It is a terrible tragedy and our thoughts and prayers are with the family at this tragic time," he said.
"Damien was born here in Portnoo but emigrated young in life and married Glenda. She was on her way in a blue Ford pick-up to her mother's home in Brooklyn when the tragedy hit," he said.
"Damien works for the city council in New York, but over the years always kept up contact with the area and visited his parents here at Loughfad.
The news has come as a huge shock to locals in this area.
"The Moore's are a long established family in the Portoo-Kilclooney area.
They have many cousins who reside here and relations are comforting Paddy and Fay at this difficult time for the family.
Damien attended the local national school at Ballykillduff before he went to make his way in the world," Fr Daly, a native of Letterkenny said.
The tragic circumstances of the deaths of the two young boys have only started to emerge.
Nurse, Glenda Moore (39), fought in vain to prevent a surge of water snatching her children, from her grasp.
"I'm told Glenda had spoken with Damien on the mobile phone.
He was working for the council as the Hurricane began to hit. Glenda was concerned because there was no electricity in the house and she had two young boys.
However, she said to Damien she would stay at home until he got back," Fr Daly said.
"It appears Glenda's mother called and told her and the kids to come to her home on higher ground.
Glenda was making her way in her Ford pick-up to the mother's house when tragedy struck.
Her pick-up was knocked over by a huge gust of wind.
They were up to their waist in water in the submerged pick-up.
"Glenda grabbed the two boys and started to wade her way to safety along the roadside but the next thing she was hit by another gust and knocked over.
She lost the grasp of the two young boys who were swept away," Fr Daly explained.
Despite her ordeal, Glenda, joined the search for her boys.
Their bodies were found 20 yards apart on Thursday by officers who had used heat-seeking equipment to search marshes.
It was close to where the tragedy struck on Monday night.
On Friday night, the names of the two boys were read out as part of a remembrance which is held every year on the Feast of All Souls.
Fr Daly also confirmed the family are hoping to arrange a remembrance service in St Conal's Church, Kilclooney on the day of the funeral in New York. Funeral arrangements are continuing.
Posted: 10:17 am November 5, 2012