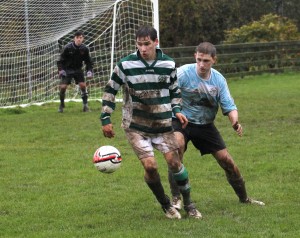 By Aidan O'Donnell
RATHMULLAN Celtic's bandwagon will load up and head for Monaghan on Sunday morning as Mark Curran takes his side to face Kilylough in a last 16 clash in the Ulster Junior Cup at Gortakeegan (kick-off 1.30).
The Seasider's are one of the best supported teams in the county and following back-to-back promotions in recent seasons they have become very much accustomed to success.
It will be the second weekend in a row the Monaghan outfit will play host to a Donegal League team, following their 3-2 defeat to Glenea United in the FAI Junior Cup last weekend.
Former Rathmullan goalkeeper Denis Sheridan has been living in Monaghan for the past number of years and went along on a reconnaissance mission for his hometown club.
"Denis said they were slow out of the blocks – Glenea went 3-0 up – but they finished strong. They'll be a decent side but it's a game we're really looking forward to," said the Rathmullan boss.
"We haven't played out of the county in quite some time so it's a bit of an occasion for us. We're taking a coach load of 40 or 50 supporters with us so it could be late when we're back on Monday morning."
Rathmullan have suffered a string of injuries to some key players in the early part of the season. Centre-half's Paddy Sheridan (groin) and Sean Barrett (neck) are both expected to be sidelined until the New Year, although Curran was hopeful that midfielder Eoin Sheridan and star striker Dara Patton will make a return this weekend following their respective lay-offs.
The Rathmullan boss also revealed the signings of defender Shea Coyle from Glenree United, goalkeeper Ian Strain from rivals Milford United and former Finn Harps and Kildrum Tigers striker Oisin McMenamin.
"Shea is a great signing for us especially considering Paddy and Sean could be out until after Christmas. We've also signed Ian Strain and Oisin McMenamin, although both won't be available until Sunday week (December 9)," said Curran.
He added on their season to date: "We're pretty happy with how the season has gone so far. We picked up a draw against Glenea and although plenty of people said that was a great result for us against the defending champions, I felt we would've won that game if Dara was fit.
"The only game where I feel we let ourselves down was against Cappry Rovers in the FAI Junior Cup. We just didn't show up but I think you need one wake-up call every season and that was certainly one for us."
Rathmullan were dumped out of the Ulster Cup in cruel circumstances by neighbours Milford last season. Leading 1-0 after 89 minutes, the Seasider's relinquished their grip on the game as their derby foes salvaged a last-gasp equaliser before claiming a 2-1 win in extra-time.
The Moyle View Park outfit went onto lift the trophy in May and Curran, whose side have not yet played a top-flight derby against either Milford or Kilmacrennan, would love to have the chance to exact revenge in this season's competition.
He said: "We have two massive games now over the next two weekends. If we could win this weekend we'd be in the quarter-finals of the Ulster Cup, as well as the semi-finals of the Brian McCormick Cup.
"We always felt at the start of the season that the cups might be the best place for us to have success this year but if we could get a win against Dunkineely at home next weekend we'd jump up to fourth and would have everything to play for after Christmas.
"We haven't played Milford or Kilmacrennan in the league yet but we'd love the chance to play them (Milford) again in the Ulster Cup. If we win this weekend, we'll be gunning for them."
Posted: 8:36 am November 30, 2012