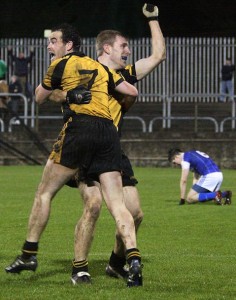 BY HARRY WALSH
THAT well-known maxim 'The harder you practice, the luckier you get' was never more appropriate than last evening.
St Eunan's wing-back Mark McGowan, a man who scored '45s off both left and right boot in Towney earlier in this year's Championship, had yet to join the team huddle.
The 2012 County final was about to start in MacCumhaill Park and the 24-year-old was lining up a '45. He stepped up and converted with aplomb before joining his team-mates and management in their pre-match huddle.
Fast forward an hour and McGowan is presented with a late, late chance to edge fourteen-man St Eunan's into the lead.
Brendan McDyre's mis-placed back pass had led to the opportunity and he makes no mistake, coolly arrowing the ball over the black spot.
Three minutes later, match referee Robbie O'Donnell blows his full-time whistle and bedlam breaks out among those wearing black and amber jerseys.
"It's unbelievable. I didn't even realise that the full-tine whistle had gone. I wasn't until I seen Conall Dunne come running into my face that I knew we had it," he said.
McGowan is back enjoying his football after an injury ravaged year which saw him undergo a hip operation.
"I'm happy to be back playing football. It was unreal to be part of that this year," he said.
What about those '45s before the throw-in?
"I don't know if it was a good idea or not. I had a few shots beforehand which I missed so it was nice to see that going over," he said.
McGowan also chipped in with a point from play as 'Eunan's edged past the challenge of Naomh Conaill.
"It's been a very very hard year – it was tough out there and this is the best way to win it. To do it so close to the end of time makes it that bit extra special.
"While I knew we were a point up I thought there was still five or ten minutes to play. When the ref blew his whistle I thought he had awarded them a free. It's brilliant," he said.
Would you have minded another five minutes at that stage?
"Jesus no. The whistle came quick enough for me. I'm happy out," he laughed.
Posted: 9:00 am November 5, 2012