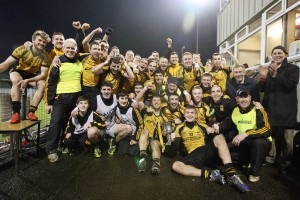 FROM CHRIS MCNULTY IN BALLYBOFEY
GAA – DONEGAL SFC FINAL
'Eunan's are champions
FROM CHRIS MCNULTY IN BALLYBOFEY
ON A day of drama when emotions ran high, St Eunan's were crowned Donegal senior football champions as they eked Dr Maguire from Naomh Conaill's grasp this evening.
The Glenties team seemed destined to climb the stairway to glory, but in the end it was Micheál Martin, the St Eunan's captain, who was presented with the Cup by PJ McGowan.
After taking some time to find their feet, it was Naomh Conaill who looked in control of destiny, but a Lee McMonagle goal ignited the St Eunan's charge. Despite having David McGinley sent off, just eight minutes after his introduction as a sub, St Eunan's claimed the title with an utterly strange winning score.
From a sideline kick on his own 20-metre line, Naomh Conaill forward Brendan McDyre, in attempting to play the ball back to goalkeeper Stephen McGrath, conceded a '45.
Mark McGowan stepped forth to land the kick over the black spot – and it was a score that proved to be the key to sending Eunan's to their fourth title in six years, their 13th in total.
Daragh Gallagher had kicked five points for a well-organised Naomh Conaill unit that had St Eunan's frustrated for long spells. At the crucial time Naomh Conaill switched off – and Eunan's took full advantage under the spark of MacCumhaill Park's floodlights.
"I have to say it's a proud day for Eunan's because we've done the double," said Eamon O'Boyle, their joint manager alongside Michael McGeehin and Brendan Devenney.
"We have won the league and the championship. If we had of been given just one at the start of the year we would've been delighted with it.
"It is so special. I said at the start of the championship, after Donegal won their All-Ireland, wouldn't it be lovely to win your county championship in the same year. That was another incentive for us to go out and do it."
The win drew to an end a difficult weekend for the St Eunan's club. News filtered through on Saturday morning of the death of Elaine Friel, the daughter of St Eunan's stalwart Joe Winston.
It cast a shadow on the weekend – and the win was dedicated to Elaine, who was a staunch St Eunan's supporter.
"Kevin (Winston, Elaine's brother) and Francie (Friel, Elaine's husband) text this morning. Kevin said: 'You've done the hard work boys and Elaine will guide you home'," said Eunan's player John Haran.
"We're happy now that we can bring the Cup to the house tonight because this is a tough time for them."
Haran was appearing in his tenth county final for Eunan's – for whom it was an eleventh final appearance in 16 – on the day of his 36th birthday. The former Donegal player said that yesterday's was one of the 'sweetest'.
Officially, yesterday's was their 13th Dr Maguire win, but in Letterkenny, they still count 1997 (when their win was scored off in the boardroom) as a win – and captain Micheál Martin included '97 when reeling off a list of the years in which St Eunan's were champions in his victory speech.
For Rory Kavanagh, yesterday was a special day. Six weeks after helping Donegal to win the Sam Maguire, the midfielder helped lead his club to the Dr Maguire.
"I can think of no better end to what's been a brilliant year," he beamed.
"The club is where it all began. We haven't been here since 2009 and this means the world to us."
The difficulty with finals is that they're sometimes an unforgiving breed and there has to be a loser.
Dejected and crestfallen Naomh Conaill players dropped almost in disbelief as the final whistle ended their hopes and dreams for another year. On a day when they did everything they could, bar one fatal mistake, it was hard not to feel sympathetic for the boys in blue.
"For the effort the boys put in I thought they deserved the victory but, in football, you don't always get what you deserve," said their joint manager, Martin Doherty.
"We were the hungrier team the whole way through the second half and had them on the back foot for the most part. But at the same time we didn't punish them on the scoreboard when it mattered.
"We're absolutely gutted but we take our hats off to St. Eunan's. They saw it out when it mattered. They held onto the ball and it was hard for us to get back into it."
Meanwhile, the Donegal Intermediate Championship final between Termon and Aodh Ruadh – which was called off on Saturday due to the bereavement in the Termon club – has been re-fixed for Wednesday night at 8pm in MacCumhaill Park.
Posted: 9:50 pm November 4, 2012