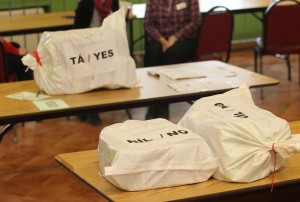 DONEGAL has returned a resounding 'No' vote in the Children's Referendum with less than 25 per cent of eligible voters in the county turning out.
Both constituencies in the county, Donegal North East and Donegal South West, were two of only three constituencies across the country which rejected the amendment to the Constitution. Dublin North West was the only other constituency which said no.
Early yesterday afternoon, the Children's Referendum was passed, though not by as wide a margin as had been expected. Nationally, the Yes side vote had 58 per cent to 42 per cent for the No side. There was a low voter turnout of 33.53 per cent, the lowest since the 1996 referendum on bail.
Donegal South West was the first constituency to declare on Sunday morning, with 6,523 voting 'Yes' and 8,463 voting 'No'. That marks a figure of 43.53 per cent in favour and 56.47 per cent against. Turnout in Donegal South West was 23.81 per cent.
In Donegal North East, 5,749 voted 'Yes' and 8,504 voted 'No'. That's 40.34 per cent in favour and 59.66 per cent against. Turnout in Donegal North East was 24.47 per cent.
Posted: 8:07 pm November 11, 2012