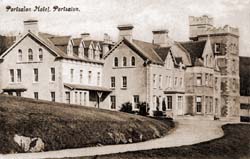 THE owners of the site of the former Portsalon Hotel are seeking "damages" of €5.6 million from Donegal County Council whom they claim demolished the structure in 1991.
LTG Developments Ltd say the hotel was demolished by the council, and as a result, have invoiced them for £4.5m (€5.6 million) for the damage caused by the demolition and loss of capital.
The company's majority shareholders and directors are Italian national Mr Michael Ruggeri and  Mr Patrick Clinton.
Earlier this year, the council confirmed that ground works carried out at the site in May were illegal.
The owners dug up and blocked off a car park they own as well as an old right-of-way leading to the pier.
As a result, an enforcement notice was issued to LTG Developments Ltd on May 12.
The enforcement further required the removal of all material, and the reinstatement of the lands to their previous condition, and allowed a four week period for compliance with the notice.
In a statement released to some media outlets this week, Mr Ruggeri expressed frustration with the council, saying he "tried for years" to reason with them.
"The beach at Portsalon is world class, has a Blue Flag and my re-development plans would bring jobs and prosperity to the area," the statement read.
"LTG wrote to the contracts manager over four months ago and have still not received a response to the issues that were raised. The company has repeatedly stated to the council, that it does not want to have a potential adverse impact on the public purse at this time, and would welcome the emergence of a mutually beneficial way forward, even at this late stage.
"Matters have come to a head because the council is attempting to interfere with our rights as the owners of the land and we will not allow this to happen".
A council spokesperson said that "active investigations" were underway in relation to unauthorised developments at the site and that it would not be appropriate to comment at this time.
Posted: 12:30 pm November 17, 2012