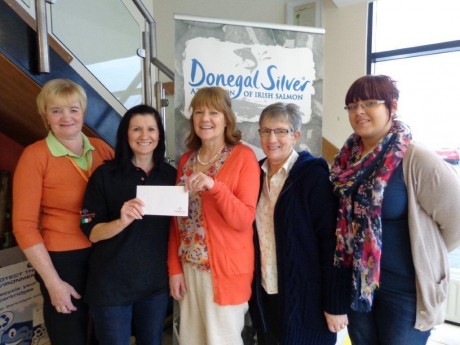 THE energetic climb up all 751 metres of Mount Errigal by 25 employees of Marine Harvest Ireland resulted in a cheque for €2,000 being presented to the Donegal branch of Muscular Dystrophy Ireland.
The Rinmore based employees climbed the county's highest peak after gathering sponsorship from friends.
Accepting the cheque, Susan Peoples from the Donegal Muscular Dystrophy Association (DMDA), thanked the intrepid walkers for their generosity.
"We try to ensure that our organisation is very active locally, and it's great to see local people getting their co-workers involved in something that can make a real difference to our cause," Ms Peoples said.
Pat Connors from Marine Harvest noted: "We know we have some of the most active and adventurous employees around, so it's great to see them putting all that energy to good use!"
Posted: 4:35 pm October 23, 2012