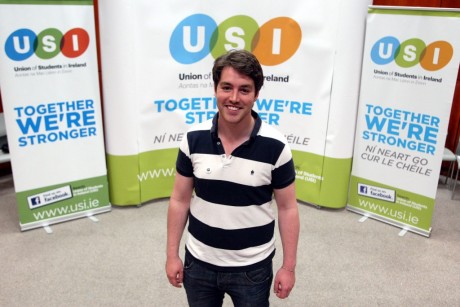 DONEGAL TD's, Senators and Councillors need to decide where they stand on third level costs as the Union of Students of Ireland (USI) prepare to take their pre-budget campaign nation-wide.
President of USI, Letterkenny man John Logue is calling for a massive turnout when the USI public meeting takes place in Letterkenny on November 6. John is  the son of Siobhan (nee Kelly) and John Logue. This week he warned the country's politicians "we will no longer be punished for the mistakes of our elders".
Speaking to the Donegal News he has warned of the potential economic loss to town's like Letterkenny if the number of students able to attend colleges is vastly reduced because of the growing costs involved. The USI president urged business owners to put their politicians on the spot regarding the cost of going to college, to find out where they stand in advance of the budget.
"If we want to see our policies reflected in budget decisions then we have to build a groundswell of support at local level. It is time to bring the fight for education into the towns and homes of students. It's time for local politicians to hear our voice over a sustained period of pressure.
"Students are feeling guilty about their parents having to give them money, when they can and the number of part-time jobs out there for students are few," the president added.
All of the local politicians will be invited to a series of regional meetings starting tonight in Dundalk on the cost of going to college. TDs, senators and local councillors will be invited to attend the meetings and answer questions from concerned students, parents and local business owners on their positions regarding fees and the student maintenance grant ahead of Budget 2013.
John Logue said this series of public meetings is intended to create awareness in local communities and among public representatives of the significant financial challenges facing families with children who are currently in or aspire to enter third level education. Many of the public representatives that USI has invited gave pre-election pledges to protect students and families from further fee increases and cuts to the maintenance grant.
USI has produced a pamphlet for parents entitled 'Fed Up? Stand Up: A Parents' Guide to the Cost of College'. This document will be distributed at the public meetings. It clearly outlines the current costs of third level education and discusses the threatened increases to fees and cuts to the grant.
Costs
Mr Logue pointed out that Minister for Education Ruairi Quinn has said that families will have to pay €3,000 in fees per student every year by 2015. The average weekly rate of the maintenance grant is now €84, yet the absolute minimum the state deems it possible to live on per week is €100 (the current level of Jobseeker's Allowance for unqualified 18-19 year olds), while the average weekly cost of on-campus accommodation is €102.40 per week. Therefore, the average maintenance grant rate now no longer covers the cost of accommodation, before fees or living costs are even considered. The average yearly cost of sending a child to college is €10,500 (educationireland.ie), yet the highest possible maintenance rate is only €5,915 and the average disposable income for households has fallen to €22,168 (CSO).
Meeting venues
Dundalk: Monday, October 22, 8pm in the Dundalk Crowne Plaza Hotel. Sligo: Tuesday, October 23, 8pm, The Glasshouse Hotel. Limerick: Wednesday, October 24, time and location TBC and Cork: Thursday, October 25, time and location TBC and Letterkenny on November 6.
"We have organised these public meetings because public representatives must state their position on third level funding before Budget 2013.
"Students, families and local business owners need to know if their representatives are going to come out against fee increases that will cause many students to drop out of college and prevent prospective students from entering third level education.
"In many towns, the student population helps to sustain the local economy. If the government continues to target students in the name of austerity then local businesses will suffer as less students attend college and the students who do attend have significantly decreased disposable incomes.
If students and families are fed up of being targeted by Minister Quinn, then they should stand up and hold their public representatives to account," Mr Logue added.
Posted: 3:01 pm October 19, 2012