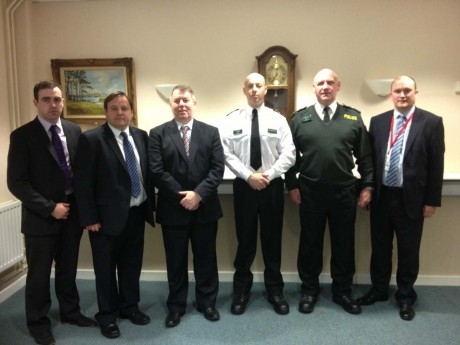 A MEETING this week between a Donegal Sinn Féin delegation and senior officers of the PSNI has been described as 'frank and positive'.
The delegation consisted of Deputy Pádraig MacLochlainn, Inishowen Councillor Jack Murray and Letterkenny Councillor Gerry McMonagle. They met on Monday with the PSNI officers in Derry in order to discuss cross-border co-operation in tackling criminality in the border area.
Commenting after the meeting Deputy Mac Lochlainn said the party in Donegal is currently engaged in an extensive campaign to tackle crime and lobby for increased garda resources in the border area.
"Today's meeting with the PSNI in Derry was an initiative that was instigated by growing concerns as to the activity of cross-border crime and a perception that gangs can 'border hop' with ease after committing burglaries and other offences," Deputy MacLochlainn said.
"The meeting was frank and positive. The PSNI officers we met with gave a commitment to co-operating with the Gardaí in this regard. They also outlined the joint work that both policing structures are engaged in and discussed the regular meetings that take place in relation to cross-border crime.
"We agreed to follow up on these meetings to ensure the prevention of cross-border crime is a priority. We also meet and engage regularly with the Gardai in Donegal," he added.
His party colleague, Cllr Jack Murray, said he used the engagement as an opportunity to highlight the growing concern in Inishowen in relation to criminals escaping across the border.
"I welcome the response from the PSNI representatives present, who were aware of the situation. They stated that there is regular engagement with the Gardaí on this matter. They also committed to continuing this co-operation in order to catch the criminals responsible for these break-ins".
Letterkenny Councillor Gerry McMonagle said he made the PSNI aware of the increasing problem in Letterkenny of criminals escaping across the border after committing robberies in the town.
"There have been numerous reports of items, stolen during burglaries in Letterkenny, turning up for sale in Derry. I pressed the PSNI to tackle this problem and liaise with their garda counterparts in Donegal on the issue. They have committed to doing so and I will follow up on this at future meetings".
Posted: 4:36 pm October 15, 2012