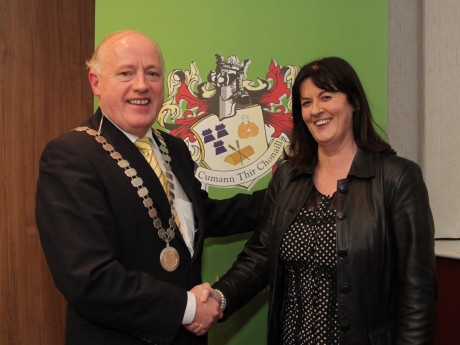 THE closing date for nominations for The Donegal Person of the Year 2013 is November 30, the AGM of the Donegal Association in Dublin heard this week.
Sorcha Ní Dhomhnaill, Chairperson, welcomed everyone to the meeting and reviewed the Association highlights of 2012. 
This was the first year that there was a dual person of the year, Anne Marie Ward and the late Hugh Green. Unfortunately, Hugh Green passed away in July. He had said that the award of Donegal Person of the Year was the most special award he had received in his lifetime. 
Martin Mc Gettigan was inaugurated as the new President and was presented with his chain of office and he made an enthusiastic and inspiring speech.
The Donegal Association AGM also passed a motion to appoint two new positions to the Executive Committee, The Honorary IT Co-ordinator and the Honorary Assistant IT Co-ordinator. These positions will allow the association to embrace new technology such as social media, website improvements and other technical development areas. 
The Donegal Association will hold their Annual Mass in the Regency Hotel, Drumcondra, on Sunday, November 18 at 6.30pm. The Minister for Jobs, Enterprise and Innovation, Richard Bruton TD will give a lecture after this mass. All are welcome to attend. 
The nomination process is quite simple. Anyone or any group may nominate someone – the main criteria being that the person nominated must be from Donegal or should have made a significant contribution to the promotion of the county. Nomination forms may be downloaded from the Association's website www.donegalassociation.ie or by post from The Secretary, Donegal Association, c/o Teachers Club, 36 Parnell Square, Dublin 1 or by telephoning the Secretary at 0868077965.
Nominations should set out the reasons for the nomination and include supporting documentation and endorsements from individuals and groups.
"So, don't forget that the time is short and we look forward to receiving your nominations," Mr McGettigan said.
Posted: 5:14 pm October 24, 2012