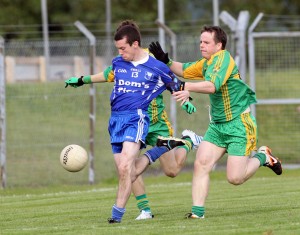 RTE RADIO NA GAELTACHTA SENIOR COUNTY CHAMPIONSHIP FIRST ROUND, REPLAY
FOUR MASTERS 0-012
ARDARA 0-05
BY HARRY WALSH AT MACCUMHAILL PARK
FOUR Masters booked yesterday's quarter final meeting with St Michael's courtesy of this comfortable seven point play-off win over Ardara in MacCumhaill Park on Thursday night.
The Donegal Town outfit reeled off six points in a row to lead by five (0-07 to 0-02) at the break and while Ardara would reduce the deficit back to three within six minutes of the restart Joe Lacey's side emerged as deserving winners.
Four Masters showed three charges to the team which went down by a point at home to Ardara four days earlier with Danny McGarrigle, Frank McMullen and Barry Dunnion coming in for Benny Bryne, Josh Lacey and Conor McMonagle.
Ardara also made one change – Brendan McNelis coming in for Peter McHugh – and it was Adrian Brennan's side who started the brighter with points from Gareth Concarr and Ciaran Breslin either side of an Oisin McGinty score giving them a slender one point lead at the end of the first quarter.
Brennan's men would be kept scoreless for the remainder of the half however as Four Masters assumed control.
Veteran Shane Carr had them level on 17 minutes with further scores from McGinty, Michael Doherty (2), Stephen Keeney and Luke Keaney putting the men from Donegal Town in control by the break.
Ardara did make a fight of it – quite literally at times – early in the second half with points from Noel Gallagher and Concarr (free) bringing them back to within three as Ardara' Paddy McGrath and Four Masters duo Michael Doherty and Jamie McCrea picked up yellow cards in quick succession as things briefly threatened to get out of control.
The fractious nature of the contest appeared to galvanise the Four Masters men with Doherty (free) quickly cancelling out a Noel Gallagher score, which proved to be Ardara's last point of the game.
Benny Byrne and Conor McMonagle came on for McMullan and Keeney and within two minutes of his introduction, McMonagle had stretched Four Masters lead out to four.
Further scores from Doherty (2 frees) and McGinty snuffed out Ardara's championship hopes for another year while Four Masters moved forward to yesterday's quarter final.
 
Four Masters: Paul Durcan; Darren Walsh, Barry Monaghan, Jamie McCrea; Sean O'Kennedy, Conor Rooney, Danny McGarrigle; Karl Lacey, Frank McMullen; Barry Dunnion, Luke Keeney (0-1), Oisin McGinty (0-3); Stephen Keeney (0-1), Shane Carr (0-1), Michael Doherty (0-5, 5 frees). Subs Benny Byrne and Conor McMonagle (0-1) for McMullen and Keeney (41 mins), Josh Lacey for Lacey (59 mins).
Ardara: Declan Gallagher; Seanie McLaughlin, Kenneth Doherty, Ryan Sweeney; Paddy McGrath , Matthew Maher, Declan Gavigan; Brendan Boyle, Kevin Breslin; Noel Gallagher (0-2), Brendan McNelis, Oisin O'Donnell; Ciaran Breslin (0-1), Gareth Concarr (0-2, 1 free), Martin Shovlin. Subs: Stephen Boyle and Paddy Gallagher for O'Donnell and Sweeney (half-time),  Fergal Heena for N. Gallagher (52 mins), Peter Oliver McNelis for Shovlin (57 mins).
Referee: Sean McLaughlin (Malin)..
Posted: 10:03 am October 12, 2012