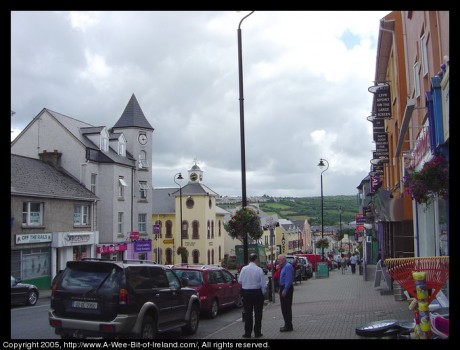 LETTERKENNY ranked 24th in the list of 100 best towns and cities following a survey conducted by Retail Excellence Ireland to find out what was important to locals and shop owners.
Letterkenny scored a total of 70.77 per cent while winner Westport scored 85.61 per cent.
The citizens of Letterkenny ranked the town higher than those with an economic interest in the town. Citizens ranked Letterkenny 20th while stakeholders ranked it 48th.
The Retail Excellence Ireland Towns and Cities Review 2012 surveyed 
11,287 citizens and 5,027 stakeholders nation-wide conducting  face to face interviews last month.  
The Town and City Review investigated what are the most important factors for a consumer in deciding to visit a town or city? How do citizens rate their town or city? And how do stakeholders rate their town or city?
While Letterkenny is ranked in the top quartile of 25 towns, Buncrana is among those towns in the second section and Ballybofey is in the third. 
The reasons the top 25 towns and cities attained their ranking include: They have retained a significant proportion of retail activity in the town or city centre; have a professional, broad and engaging retailing mix; have a good dining and entertainment mix; have a local population size which accommodates a mix of multiple retailers and specialist independents; have a welcoming car parking cost and enforcement policy; have an adequate and accessible stock of car parking spaces; have a structured and organised stakeholder group and demonstrate significant civic and stakeholder pride in their town or city. 
Description
The survey described Letterkenny as Donegal's most populous town which is rated 24th in the top 25.
"The town fared well in the survey and outperformed the national average by 14 per cent (80 per cent) in terms of its selection and standard of retail stores. Letterkenny is six per cent better presented and maintained than the national average.
"However, while Letterkenny was found to have seven per cent more competitively priced car parking than the average, citizens rated the town below the national average for car parking availability. The town's streetscope, while rated marginally above the national average, is an area that could be improved upon. Letterkenny also fell just below the national average for how safe and secure citizens felt in the town".
Largest survey
The survey which is the largest of its kind ever undertaken in Ireland, is part of an initiative which Retail Excellence Ireland (REI) launched in July this year to encourage all stakeholders to work together to form a "Town Team", design and implement a "Town Plan" which will reinvigorate towns and cities, and in-turn will re-engage with citizens and customers alike.
David Fitzsimons, Chief Executive Officer, Retail Excellence Ireland said "I welcome the results of this survey and thank the many thousands of citizens and stakeholders who took the time to give us valuable feedback. The results of this survey represent the start of something big for towns and cities across Ireland. REI is committed to ensuring that towns and cities take pride of place in every community across Ireland".
Reaction
Letterkenny Chamber of Commerce John Watson commenting on the result said the town fared well in the survey and outperformed the national average by  in terms of its selection and standard of retail stores. 
"While we would have loved to have made it to the top 10 we are pleased to be in the top quarter of best towns and cities. As with the Tidy Towns competition, there is tough competition with the likes of Westport and Killarney but Letterkenny is doing well to be positioned where it is this year and is the only Donegal Town to be placed this highly.
"We have always said over the last number of years that Letterkenny has an exceptional selection and standard of retail and this report endorses that. Through ShopLK and our work with Letterkenny Town Council we have tried to promote Letterkenny in the best possible light.  The work done on Main Street underlies the Council's commitment to the retail community in Letterkenny and together we have worked hard at making Letterkenny an attractive place in which to live, shop and socialise," Mr Watson said.  
Toni Forrester, Chamber CEO said they feel they are winning the battle in encouraging local people to stay and shop local.
"We have this year been advertising and promoting Letterkenny outside the local area and we are seeing more people choosing Letterkenny as a retail destination. Our aim is to build on this next year and working with the other key stakeholders make Letterkenny an even more attractive destination. It is in all our interests to keep the heart of Letterkenny beating to protect local jobs and to support local businesses.  Continued success in Tidy Towns, more events, excellent customer service and of course value will ensure we can rise up this particular table,"  she added.
Posted: 2:33 pm October 16, 2012