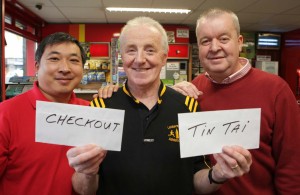 HUNDREDS are expected in Letterkenny on Sunday for the inaugural New Mills 10k. The race-fun run has been added to the local athletics calendar and promises to be a special finale to the season.
Run on a flat, fast course, the race takes at 2pm and organisers are hoping it will attract a strong entry from all over Donegal and further afield.
It is been co-hosted by Letterkenny Athletic Club and Errigal Cycling Club. Two local businesses'- Checkout, Oldtown Road and Tin Tai are sponsoring a prize of €100 each for the first male and female across the line to add some spice to the event.
"We're hoping it will be a well supported event. After the Grand Prix series this promises to be a very interesting end to the season," one of the organisers, Sean McFadden said.
His comments were echoed by Brendan McDaid of Letterkenny A.C.
"I think this is an event people will enjoy. The course is appealing and with a good array of prizes, spread across all categories, there should be something in it for everyone," he said.
A special part of the event will be a be a juvenile track programme; Under-12 600 metres, Under-14 800m and Under-16 1500m. This is sure to attract a lot of interest. Hopefully, young athletes and fun runners will come out with their parents and support this event.
There will be first, second and third prizes for senior men, senior women, master men (40,  50, 60) and Master Women (40, 45, 50- 1st and 2nd)
Entry fee for the 10k is €10. Registration from 12.30pm at the Aura Leisure Centre. Contact Sean McFadden (087) 256-7861 or Brendan McDaid (086) 811-3947 for further details.
Posted: 11:22 am October 15, 2012