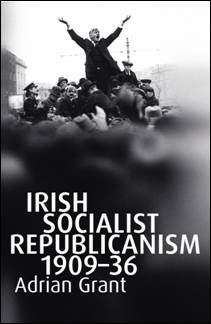 A BOOK by a Buncrana author looking into the history of Irish Socialist Republicanism 1909–36 was launched in Ionad Teampaill Chroine at the weekend.
Adrian Grant's book 'Irish Socialist Republicanism 1909–36' was launched by Tommy McKearney, author of The Provisional IRA: from Insurrection to Parliament, as part of Peadar O'Donnell Weekend.
Mr Grant's book is described as a fresh and exciting look at Irish radicalism in the early twentieth century.
"It puts the labour movement at the centre of socialist agitation and adds immensely to our understanding of the era," according to Brian Hanley, Institute of Irish Studies, University of Liverpool, co-author of The lost revolution: the story of the Official IRA and the Workers' Party (2009).
"Grant's book takes a fresh and stimulating approach to the politics of the labour movement and republicanism in early twentieth-century Ireland. A useful, provocative and engaging study, it should be read by all those with an interest in the history of social radicalism on this island," said Fintan Lane, author of The origins of modern Irish socialism, 1818–1896 (2007).
This book examines Irish socialist republicanism in the early part of the 20th century. Previous studies of the subject have pointed to the left wing of the IRA as the prime instigator of the movement. 
Here, socialist republicanism is examined in detail from the perspective of the Labour movement alongside the IRA and other republican groups for the first time. The result is an enlightening account of the many connections and alliances that existed between republicans, socialists, communists and others. The reader is provided with a narrative that explains the many twists and turns in both mainstream and radical Irish politics in the period.
Adrian Grant holds a PhD from UU, Magee College, and is the editor of the online history magazine, Scoláire Staire.
The author will talk about his book at Buncrana Community Library on Wednesday October 24 at 7.00pm and all are welcome to attend.
To learn more about this book, please see: http://www.fourcourtspress.ie/product.php?intProductID=1092
Posted: 4:41 pm October 19, 2012