ADVERTORIAL
Drambuie has just launched its new campaign which Presents The Extraordinary Bar. Their video takes you to an intriguing, mysterious world of Drambouie.
Drambuie is an extraordinary blend of aged Scotch whisky, heather honey and spices. It is inspired by a recipe that was created more than 260 years ago for Prince Charles Edward Stuart of Scotland.
The hints of heather honey and spice in the Drambuie elixir enrich the whiskies with a powerful depth of flavour. The result is a unique spirit that offers discerning drinkers an extraordinary taste experience.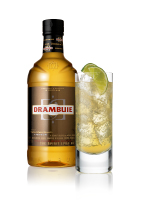 Drambuie can be enjoyed neat, over ice or in long refreshing serves. Try it with ginger beer, topped off with fresh lime wedges.
Drambuie is also half of the classic Rusty Nail – 1 part Drambuie, 1 part Scotch served over ice in a rocks glass.
Drambuie has an ABV of 40% and can be found at Waitrose and in all good drinks specialists and supermarkets, from £23.99.
Click to play the video below to find out for yourself
Posted: 5:26 pm October 22, 2012