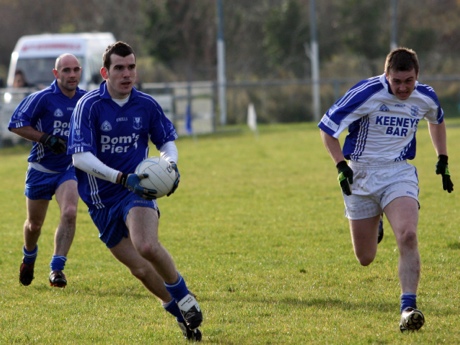 FOUR MASTERS 1-15 ST MICHAEL'S 1-08
By Chris McNulty in Ballybofey
FOUR Masters are through to face Naomh Conaill in the Donegal SFC semi-final as Oisin McGinty's extra time goal took them away from St Michael's in tonight's quarter-final replay in MacCumhaill Park.
McGinty cracked past Ciaran Gallagher four minutes from the end of a struggle of a replay in Ballybofey.
It was no more than Four Masters deserved on the night.
A Colm McFadden goal on 37 minutes seemed as if it would be the spur for a St Michael's win – but Four Masters ground deep to force the extra period.
And despite having lost Shane Carr and Michael Doherty in the first-half, it was the Donegal town brigade who won the night.
Karl Lacey stood tall at just the right times for the boys in blue, who scored 1-7 without reply after they fell two behind seven minutes from the end of normal time.
The Bridge boys were missing one of their most important pistons in Martin McElhinney and their charge disintegrated in the second-half. Big Paul Durcan kept Four Masters hopes up with saves from Daniel McLaughlin and Peter Witherow at crucial times – and another spirited fightback secured another day out for his team.
Joe Lacey's team hit the front for the first time since the third minute of the game when Benny Byrne curled over three minutes into the extra period.
And there was a real sense of belief prevailing when Stephen Keeney found the target after Byrne did well to win possession five minutes later.
The big score came when a free by Durcan dropped short, but wasn't cleared and McGinty seized like a terrier before smashing to the net.
It was the strike that sealed the fate of both. There was no way back for St Michael's and, just for good measure, the excellent Lacey and Conor McMonagle posted late scores.
A late Michael Doherty free on Sunday completed a comeback by Four Masters that forced tonight's replay – and the former county man clipped over a left-footed free to put his team ahead in the third minute.
Both manager showed just one change to their teams from Sunday's stalemate.
A knee injured ruled All-Ireland winner Martin McElhinney out of contention for St Michael's, with Lorcan McDaid coming in.
Four Masters, though, were able to welcome a member of the Donegal panel – Barry Dunnion – back from injury for this one, as he took Darren Walsh's wing-back sentry.
St Michael's opened an early gap as Daniel McLaughlin, Colm McFadden (free) and Stephen Coyle (free) posted three points in as many minutes.
Stephen Kenney and Doherty – after a superb interception by Jamie McCrea – drew Four Masters level, only for McFadden to split the sticks with a 40-metre free.
A first-half characterised by a spate of handling errors by the two teams concluded with converted frees at either end by Doherty and McFadden.
Masters trailed 0-5 to 0-4 at the interval and the stack of chips at St Michael's side of the table was enhanced after ace scorer Doherty and Shane Carr both had to withdraw with injuries in the last six minutes of the half.
With Doherty sidelined, goalkeeper Paul Durcan strode up to level things up from a '45.
The game turned on two goal chances at either end. The first saw Oisin McGinty get a pop at goal, but St Michael's netminder Ciaran Gallagher beat away his effort.
Just over a minute later, Colm McFadden had the Town End net bulging as he hammered home in style after Daniel McLaughlin's break down the left flank.
Durcan converted a free and then spread himself well to deny Peter Witherow a second St Michael's goal.
St Michael's opened up a four-point advantage thanks to quick-fire points by Christy Toye and Stephen Doak, who hit a fine point from the stand side.
Masters were undeterred and the Donegal town men could have been ahead heading for the home straight.
Conor McMonagle and Stephen Keeney took them back to within two points before Keeney skipped away from Brendan Rodden only to crack a shot into the side netting with Benny Byrne screaming for a pass inside.
At the other end, Durcan again kept his team in the game when he saved from McLaughlin, who had raced clear.
McFadden landed a monster effort when falling, but extra time was bagged as Four Masters replicated their comeback from Sunday – Lacey and McMonagle, with two frees, forcing an additional 20 minutes.
Just before the close of play in the first period of extra-time there was a moment of controversy as Stephen Keeney was denied a point when he popped over after McGinty's lofted effort cannoned off the bar.
McGinty ensured that it mattered little when he struck gold to book a date with Naomh Conaill.
Four Masters: Paul Durcan (0-2, 1f, 1 '45); Danny McGarrigle, Barry Monaghan, Jamie McCrea; Conor Rooney, Karl Lacey (0-2), Barry Dunnion; Francis McMullan, Benny Byrne (0-1); Luke Keaney, Oisin McGinty, Sean O'Kennedy; Stephen Keeney (0-3), Shane Carr, Michael Doherty (0-3, 2f). Subs: Conor McMonagle (0-4, 3f) for Carr (24 mins); Josh Lacey for Doherty (30 mins); Darren Walsh for O'Kennedy (50 mins); Raymie McGroary for Dunnion (61 mins); Ryan O'Donnell for Walsh (78 mins).
St Michael's: Ciaran Gallagher; Brendan Rodden, Stephen Black, Stephen Doak (0-1); Andrew Kelly, Michael McGinley, Michael Gallagher; Lorcan McDaid, Ciaran Gallagher; Daniel McLaughlin (0-1) , Peter Witherow, Christy Toye (0-1); Colm McFadden (1-4, 3f), Antoin McFadden, Stephen Coyle (0-1, 1f). Subs: Brian McLaughlin for Coyle (39 mins); Martin Breslin for McDaid (55 mins); James Henry Alcorn for Black (68 mins); Raymond McLaughlin for B.McLaughlin (72 mins); Michael Cannon for C.Gallagher (72 mins).
Referee: Seamus McGonigle (Aodh Ruadh).
Posted: 10:34 pm October 18, 2012