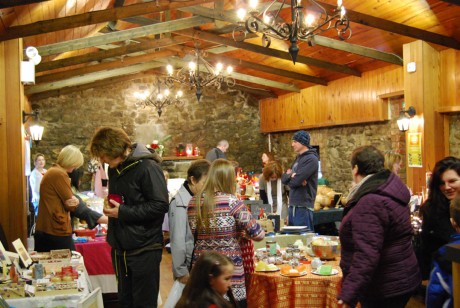 ONE of Donegal's up and coming craft and food events, The Pop-Up Emporium, will be celebrating its first birthday.
Returning to the picturesque town of Ramelton for the second year running, the one day food and craft fair will take place in the Town Hall this Sunday, October 28, from 1-5pm, showcasing the work of craftspeople and food artisans from all over the county.
The Pop-Up Emporium was set up as a co-operative event to promote and encourage the sale of locally produced goods, and give artisans a platform to promote themselves and their work.
It is an Aladdin's cave of handmade soaps, ceramics, knitwear, photography, wood turning, jewellery design, glass painting, art, home baking and savoury treats.
Guests can talk to individual artisans about their work, and avail of the 'travelling tea room', offering tea, coffee and homemade delights.
There will also be an opportunity to win The Pop-Up Hamper, containing some examples of the unique food and crafts available on the day.
So if you wish to see some of Donegal's finest food and crafts, pop in to The Pop-Up Emporium this Sunday 28th October at The Ramelton Town Hall from 1-5pm.
For further information email thepopupemporium@gmail.com or find us on Facebook at The Pop-Up Emporium.
Posted: 3:02 pm October 23, 2012