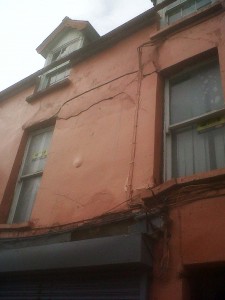 BY C.J.MCGINLEY
A RUN down commercial building in the heart of Letterkenny has now become so dangerous to the passing public, the local authority has moved in to make it safe.
Letterkenny Town Council has confirmed 'emergency' steps had to be taken over the weekend to cordon off the building near the Market Square amid fears to the public from falling debris. The property has been up for sale for some time.
Speaking to the Donegal News yesterday, Town Engineer, Mr John McCarron, confirmed following complaints from the public of falling chips and plaster the council moved under special legislation to put in place emergency works.
"The building has now reached a point, whereby emergency works are necessary to ensure public safety," he said.
Posted: 7:30 am October 22, 2012