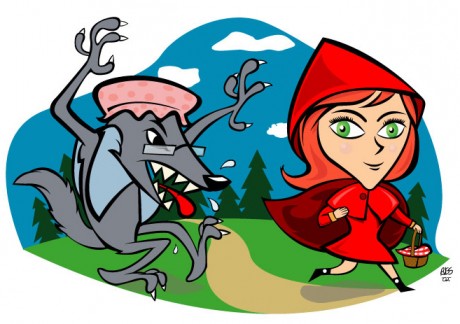 SIX children aged between 9 and 12 sought to be in the Red Riding Hood show in An Grianan Theatre, Letterkenny in December.
After last year's successful production of Hansel and Gretel in An Grianan Theatre, Letterkenny, c21 return with Little Red Riding Hood and is delighted to announce that it will, for the first time, introduce children in their Christmas production!
  
This year c21 Theatre Company are giving new life to this classic story and are looking for six children between the ages of 9 and 12 to rotate the roles of the Three Little Pigs, who will appear in the Little Red Riding Hood story, from 17th-22nd December 2012.
This is a perfect opportunity if you have a child who is outgoing, confident, and eager to work as part of a team. Some singing/dancing/acting experience is necessary.
Your child must be willing to work alongside other children and professional actors to create a piece of theatre in a short rehearsal period and then take part in some performances throughout the run. The Performances will take place in An Grianan Theatre.
 
Auditions will be held on Saturday, October 27 from 1.30pm in An Grianan Theatre and auditionees will be seen on a first come first serve basis. 
If you believe that your child would enjoy and learn from this experience, then come along and try out. Please prepare a song and short monologue.
There will be an open audition, in the form of a two hour workshop on October 27, for roles in the upcoming production of Brian Friel's The Freedom of the City.
The workshop will take place in the Regional Cultural Centre in Letterkenny and there are two different time slots, 11 'til 1pm and 2pm 'til 4pm.
Both men and women are sought for these parts. This production is part of An Grianán's Customs' Crossings series, which also includes performances of Idan Meir's Bassam and other works such as Bag of Queens by Little John Nee.
This series of projects is being part-financed by the European Union's Regional Development Fund through the EU Programme for Peace and Reconciliation managed for the Special EU Programmes Body by Donegal County Council. 
Director Sean Donegan will be staging Brian Friel's The Freedom of the City in An Grianán Theatre from January 31 to February 2, with further dates in the Balor Theatre on the 7th of February, the Alley Theatre in Strabane on February 9 and a final performance in the Millenium Forum in Derry on the 11th of February.
A combination of professional and amateur actors drawn from the North West and cross-border areas will perform this tale of three protestors who, in the aftermath of a civil rights meeting in 1970's Derry, mistakenly find themselves in the Mayor's parlour in the Guild Hall in Derry with tragic consequences.
Only applicants who have registered their interest at this address prior to the workshop will be admitted on the day. Prospective attendees are recommended to wear comfortable clothing suitable for movement. They are also asked to prepare a short piece of text – which can be from any source – in a Derry accent.
Male actors also are also asked to prepare a short piece in a working class accent from anywhere in England, Scotland or Wales if they wish to be considered for the role of a British soldier.
If you are interested in auditioning through the workshop on the 27th of October, please contact the director at seanfrancisdonegan@gmail.com to register your interest.
  
Posted: 10:15 am October 22, 2012