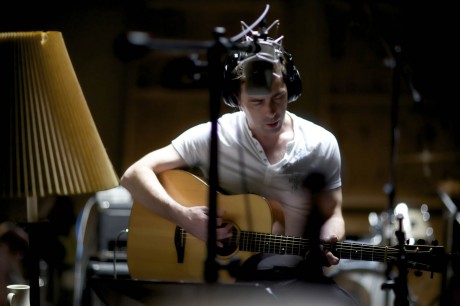 BY SEÁN P. FEENY
Today (Friday), September 14, Lifford's Mickey Harte releases his long-awaited third album which sees him strip it all down and taking him back to a sound reminiscent of his early days.
Forward to Reality was some time in the making as Mickey took his time with songwriting and venturing into new territory to get the album produced. This Sunday you can hear the final result at the Greenroom Live inLetterkenny.
Mickey spent 2010 and 2011 going over and back to the US building a following. Feedback from fans suggested that he should make an album that was reflecting his live show, stripped back to just a guitar and vocal and a small amount of instrumentation.
In early 2011 Mickey was introduced to a Chicago based producer/songwriter on one of his tours in Joliet. After some time together they decide to lay down some tracks the way that Mickey had been gigging with one man and his guitar.
Over the course of 12 months, emailing over and back some ideas and not rushing any thing, Jon brought in other musicians and built the songs around what Mickey had put down.
Finally the new album Forward to Reality, released by Swerve Music Ltd was finished and ready to put out on the shelves and hits the shelves today.
The album is back to where Mickey began his carrier, songs that mean a lot to him, songs about where he is from and the people he has come across along the way.
It's an organic album, no bells, no whistles, just simplistic with space to let the listener to decide for themselves and be invited a little more into the life of the singer songwriter.
It's nearly a decade since Mickey reached No 1 in the Irish charts with his debut single We've Got The World, which is still one of the most successful songs to enter the Eurovision Song Contest since Ireland last won the competition with Eimear Quinn's The Voice.
His debut album Sometimes Right Sometimes Wrong went straight in to the No 1 in the Irish charts that year and received triple platinum status.
After parting ways with his label Mickey took some time out in 2005 to write his second album Live and Learn which was recorded in Stockholm, Sweden, London and Ireland, co-produced by fellow Donegal musician Rory Gallagher from The Revs fame.
The lead single from the album Sound of the Summer became a play list favourite on Irish radio and got Mickey reviews about his song writing that he finally deserved.
In 2007 Mickey he starting working on writing more working with Kieran Goss, Jack Tempsen (The Eagles), Phil Jones (Tom Petty), Rick Ross (Neil Young) Rob Burke and Paul Brady which helped Mickey get through a difficult time in his life and focus him on what really counts.
Mickey teamed up with one of the writers again, his idol Paul Brady, for a new project called the Subztitutes releasing a song for the Irish team called Bring It on Bring It on.
You will have an opportunity to see Mickey Harte live in Donegal this weekend as part of his nationwide tour when the Lifford man plays at the Greenroom Live, Main Street, Letterkenny on Sunday, September 16 at 9pm. Tickets are available from the An Grianán box office on Tel 07491 20777 or www.angrianan.com.
Posted: 2:14 pm September 13, 2012