DONEGAL 1-12 KERRY 1-10
BY CHRIS MCNULTY AT CROKE PARK
STATISTICS and history told us it wouldn't happen.
Not for the first time, however, Jim McGuinness and Donegal tore up the formbooks and the predictions yesterday.
Two points were between them at the end, but only for a madcap three minutes that yielded a goal and two points from Kerry, Donegal would have had a handful or more to spare on the old aristocrats.
They walk with a swagger now and nothing fazes this bunch anymore. No more do they retreat to a shell when the questions are asked. Instead, they deliver the answers in abundance.
And they did it yesterday in a cauldron of nerves at Croke Park. Magnificent Colm McFadden hit 1-5 to shoot Donegal to a date with Cork in three weeks' time.
A purple patch between the 53rd and 63rd minutes that yielded four points – two from McFadden and one each from Toye and McBrearty – was the game's defining period. From there, Donegal had enough of a cushion to stave off Kerry's comeback.
Kieran Donaghy had been well marshalled by Eamon McGee all afternoon – but the towering inferno from Austin Stacks goaled four minutes from time. Kerry reeled Donegal in to the minimum – but Karl Lacey had the final say, as he scorched over after a superb piece of ball winning from Rory Kavanagh. Kerry launched it one last time, but when Lacey emerged with the O'Neills the game was up for Jack O'Connor and Kerry – but Donegal's dreams were only beginning.
After McFadden and Cooper – who continued a magnificent record of never being held scoreless in the Championship – traded early blows, Donegal landed a dream start when they scored a freak sixth-minute goal.
There seemed little danger for Kerry when Donegal were awarded a line ball in the Cusack Stand's shadows. Colm McFadden's quick thinking saw him deliver an arrow in on top of 'keeper Brendan Kealy. With Michael Murphy for company, the ball flew past both Murphy and the uneasy Kerry custodian.
Donegal goal. Dream start.
When Michael Murphy beautifully let sail between the Hill 16 posts sixty seconds later, it opened up a four-point lead.
Kerry closed the margin with Declan O'Sullivan and Bryan Sheehan (free) on the mark. Donaghy and O'Sullivan miscued with chances and it was Donegal who led by two as they headed for the tunnel of the Hogan Stand at the break.
Donegal added just two further points – McFadden slotting over in the 23rd minute after a brilliant rob by Leo McLoone won possession for the galloping Lacey to carry, with the St Michael's ace nailing a 45-metre free in stoppage time.
There were a couple of warnings shots, which Donegal managed to survive. Paul Durcan did well to stand tall to fetch above Donaghy in the 17th minute, while Kerry opened things up for their final point of the first-half.
In two late pre-game changes, Jim McGuinness added the height and physical presence of Eamon McGee and Martin McElhinney to his side. David Walsh and Declan Walsh were the men to make way, as McGee started on the towering Kieran Donaghy with McElhinney added his frame to centrefield.
Cooper and Donaghy combined like clockwork and, after drawing Eamon McGee out, Cooper fisted over – but the screaming James O'Donoghue (who hit the fourth Kerry score) must have wondered what might have been as he ghosted in at the back for a knockdown.
As it was, Donegal drew breath with a fabulous McFadden free sending them 1-4 to 0-5 ahead at the first bell.
A mark of how troubled Kerry had been was that they took in two subs, Brian Maguire and Darran O'Sullivan, in the opening 35. Donegal had struggled to win the primary ball in that period and sent in the fit-again Neil Gallagher for part two.
Twice in the opening ten minutes of the second-half – through Anthony Maher and Cooper (free) – Kerry came to within a point, but on each occasion Donegal hit back. First, the now heavily bandaged McBrearty surged through to tee up McLoone, who sold a clever dummy to Maguire, before pointing.
And then Murphy cooly popped over a 35-metre free. The end-to-end sequence was then broken by the Tir Chonaill captain, who swung another free through the Canal End sticks and the goal stood between them.
Donegal couldn't get away. Yet.
Cooper fired over a free with a timely reminder that Kerry weren't leaving without a scrap.
But then Donegal hit a golden spell.
McFadden swept over and Donegal kicked. When birthday boy McBrearty blew the candles out with a fine score that just beat Kealy, Donegal could smell success. Sub Christy Toye majestically pointed and then the icing came from McFadden – a trademark free won by another sub, David Walsh, whose energetic input helped Donegal in that spell when they pulled away.
We should have known that Kerry would hit back – and that they did. The nerves bubbled when Donaghy batted home with four minutes remaining. Stomachs trembled even louder when Cooper hit a free and midfielder Anthony Maher landed a monster point.
One between them and Donegal needed something fast. Rory Kavanagh emerged from a glut of bodies with the most crucial possession Donegal football has seen. Onto his right he handed it to triple All-Star Karl Lacey.
The Four Masters man strode forward and took the smart option, sweetly striking over an iconic point that sealed a famous win.
The heavens opened and Donegal folk danced a victory jig. It teamed down on a dank, damp Sunday on the Jones Road – and yet, there was a strange sort of beauty about the old theatre as The Hills of Donegal blared.
Yerra, t'wasn't a bad old day.
Donegal: P Durcan; E McGee, N McGee; P McGrath; F McGlynn, K Lacey (0-1), A Thompson; R Kavanagh, M McElhinney; R Bradley, L McLoone (0-1), M McHugh; P McBrearty (0-1), M Murphy (0-3, 2f), C McFadden (1-5, 1-2f). Subs: N Gallagher for McElhinney (half-time); David Walsh for Bradley (59 mins); C Toye (0-1) for McLoone (61 mins); D McLaughlin for McBrearty (71 mins).
Kerry: B Kealy; M Ó Sé, A O'Mahony, S Enright; T Ó Sé, E Brosnan, K Young; A Maher (0-2), B Sheehan (0-1, 1f); P Galvin (0-1), Declan O'Sullivan (0-1), D Walsh; J O'Donoghue (0-1), C Cooper (0-4, 2f), K Donaghy (1-0). Subs: B Maguire for Brosnan (25 mins); Darran O'Sullivan for Young (32 mins); J Buckley for Sheehan (46 mins); K O'Leary for Declan O'Sullivan (46 mins); P Curtin for O'Donoghue (56 mins).
Referee: M Duffy (Sligo).
MAN OF THE MATCH
Colm McFadden (Donegal): Big games need big players – and big games need match winners. Colm Anthony was peerless yesterday. The big St Michael's man shot 1-5 and it was his scores that Donegal could point to at the close of business. McFadden showed for everything and some of his points were ones of artistic beauty.
His goal may have had a touch of fortune about it, but the statistics will show in time that it was McFadden who pointed the way. An All-Star surely beckons now.
Posted: 11:06 am August 6, 2012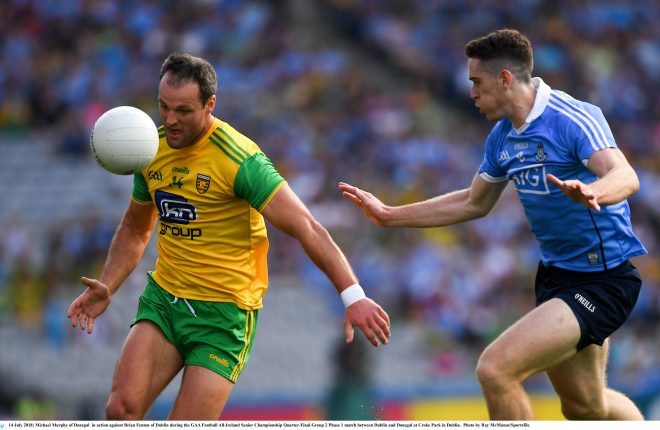 Dublin too strong in Croker.