BY CHRIS MCNULTY
JUST what went on during their two-day training camp in Redcastle last weekend will remain between the walls of the Redcastle Hotel, but there's a good bet that Cork's kick-outs will have formed a large part of any video analysis that the Donegal team's video analyst Maxi Curran will have produced for the squad to run through.
From Alan Quirke's kick-outs, Cork have been able to garner a foothold in games.
Quirke can aim darts at Alan O'Connor and Aidan Walsh at centre-field with the towers like Pearse O'Neill and Nicholas Murphy other options for Cork's aerial bombardment.
Cork have several players who measure well in excess of 6ft – and it's a good bet that we could see early balls fired at Murphy, Donncha O'Connor and Daniel Goulding on Sunday.
Jim McGuinness has had three weeks to prepare for this exam.
The project that he has been fine tuning for the last two seasons will receive its ultimate test on Sunday afternoon, but that three weeks will have seen McGuinness and Rory Gallagher plot to the minutest of details how they'll counteract Cork's physical nature.
That Cork will bring that to the table doesn't phase McGuinness, though.
"If you have big, strong men and they're athletic it would be very foolish if you didn't make it a physical challenge for the opposition," the Donegal manager pointed out.
"What is the point in having that if you weren't going to lay a hand on anyone or get amongst them?
"From our point of view, it will be interesting to see how we're going to deal with that and how we're going to cope with that. Can we stand our ground or can we get out of the road quick enough?
"They play a traditional brand of football. They can go toe-to-toe and fight their corner. They have a big emphasis on fetching in the middle, but they have a lot of other things that are crisp, sharp and modern.
"They have things that are very hard to repel when you're on the back foot."
Being on the back foot is what Donegal will attempt not to have to deal with.
Winning the ball at centre-field is well and good, but where its next move is going to be key for Cork. Their powerful running game, helped by the forward thrusts of Noel O'Leary and Paudie Kissane from the wing-back berths, is one of their most deadly weapons – but keeping that edge blunt will be on Donegal's mind.
There were whispers of an injury scare for Mark McHugh at the weekend, but the word coming from the camp since has scotched those rumours.
That will be a massive lift to Donegal, such is McHugh's importance to the team. The Kilcar man's intelligent reading of the game, his picking up of breaks in his own rearguard and that incisive eye for a killer pass when in offensive mode will have been something Conor Counihan has noted.
The Cork manager watched Donegal a couple of times during the Ulster championship and will, at this stage, be well versed in what lies ahead.
Not that that will be of too much benefit to him come Sunday. It may well be that Donegal will opt to, as they did last year against Dublin, concede the opposition's kick-outs. In landing on Croke Park's sod, the player will be surrounded by a swarm of Donegal's busy bees, who'll make it a frustratingly long afternoon for the Rebels.
"We are fairly clear in our own heads what is ahead of us," said McGuinness.
"Obviously kick-outs are going to be a huge part of the game. They are a huge part of Cork's game. If I had the players he had for size, strength and fetching ability I would do the same.
"They have options everywhere for kickouts. With their physique, their fitness and their running power it wouldn't make sense if you weren't trying to take teams on and turning into an athletic battle. I don't see that changing from Cork because it is in line with their strengths.
"It is just a matter of trying to contain them. Trying to do that for 70 minutes is a fair physical challenge for any team in the country. This is something that we haven't been up against yet."
Donegal may well set-up ultra defensive again, ala that much-maligned semi-final with the Dubs of twelve months ago.
Eamon McGee is likely to be given the task of swadowing Pearse O'Neill, with the Aghada clubman expected to start. Neil Gallagher is likely to get the nod with Martin McElhinney struggling with a knee injury, while Donegal have other big men of their own in the form of Ryan Bradley, Leo McLoone and Rory Kavanagh to contest in here. Expect, too, that Michael Murphy will be in the traffic jam at centre-field.
Off the bench, Christy Toye is another who can contest this area, so Donegal aren't without their own imposing players. Players like Toye coming into the play will also see a chance to seize the day on personal levels in the event that Donegal win.
The All-Ireland semi-final of 1992 was in the melting pot when John Cunningham raced from the dug-out to collar Brian McEniff: "Get Manus on," the Killybegs man barked. Manus Boyle soon came into the action and wrote his name on the team-sheet for the final thanks to his display. Manus kicked nine points in the final. Got a chance; took it.
Donegal will attempt to do unto Cork what they've done unto others. Simply put, squeeze the absolute life from Cork, suffocate them and launch that lethal wave of attack upon them. Basically, Donegal will try to make Cork play the game on their terms.
And it's well seen that Donegal have moved on from the team that scored just six points against Dublin last August.
"We wanted to retain a lot of the things we were doing from last year and also we wanted to push forward on other areas," said McGuinness.
"As a manager of coach you're always trying to bring in things that will make you more efficient and make you better. We have had relative success up to now – but Cork will give us a serious, serious challenge.
"You're striving for excellence the whole time and trying to achieve that or get close to that. Most things that we have laid down they have been able to take the information and win games, while still pushing on from the things that let us down last year.
That has been encouraging and it has been important.
"If we stagnated and weren't able to do that, I don't think it would have been good enough. You're either moving backwards or forwards, nothing is neutral. For us, it is very important to be moving forward, particularly with young players.
"Ultimately the scoreboard let us down and we've worked hard in the winter months to rectify that. I think that our score average is around 18 points now after five games. It is a fairly decent average for this far into the Championship. If we can get anyway close to that against Cork we'll be happy."
Distance shooting is another of Cork's strengths – but, again, it goes back to being allowed to do it. They bossed Kildare simply because the Lilywhites allowed themselves to be bossed.
Kildare capitulated and ruthless Cork took full advantage. Cork won't get that chance against Donegal.
Last year, Dublin headed for the semis after scoring 22 points against Tyrone – they managed just eight against Donegal. Cork managed just six points when these teams clashed in a League meeting in Ballybofey back in March.
Those of you of a nervous disposition may have to peer through your fingers for long periods on Sunday. This one will rest on a knife edge for most of its 70 minutes.
There's a hunger and desire in this Donegal team that can, with the aid of the 30-odd thousand that will roar them on, steer them through. Crucially, too, they have the belief.
If they can get inside Cork's minds and plant seeds of doubt, the game will be theirs for the taking and the world their oyster.
Put it this way – would you back against them?
Verdict: The time is now. Donegal to win – but only by a short head.
Posted: 9:30 am August 25, 2012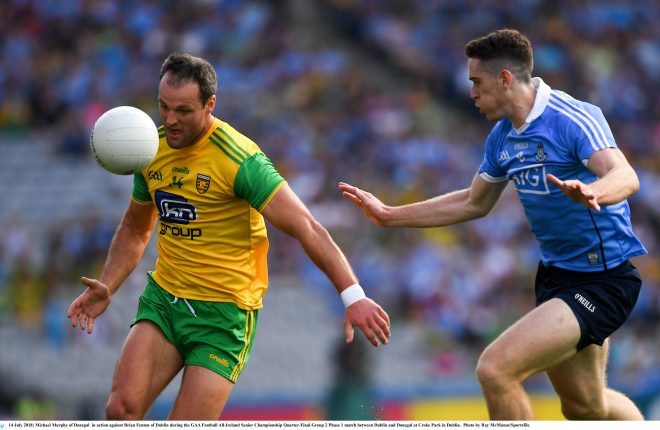 Dublin too strong in Croker.