BY CHRIS MCNULTY AT CROKE PARK
c.mcnulty@donegalnews.com
HYPE? You ain't seen nothing yet!
Jimmy just keeps winning matches and now he sits just 70 minutes from taking Sam back to Donegal.
Rory Gallagher's chorus reverberated around Croke Park yesterday as Donegal broke down the barrier to make it into an All-Ireland final again.
In the stands, 40,000 delirious Donegal fans went into a frenzy.
From yesterday evening, Donegal was gripped in All-Ireland fever.
But Jim McGuinness doesn't believe that the hype in Donegal will impact on his focussed group.
"The hype has been high anyway since the Ulster final," said a relaxed McGuinness in the Hogan Stand's press room.
"Coming up to this game there was a lot of hype with people saying it was a chance for Donegal to go to the final for the first time in 20 years.
"I have no nervousness about how the boys will react because our approach is always exactly the same.
"We can't control the supporters, nor do we want to – if they want to go crazy then let them!
"We know what we want to achieve within our performance and that is what is important.
"Regardless of what is going on in the background and regardless of how much the things runs away with itself, we will have a very clearly-defined goal for this day four weeks.
"It is up to the boys to do that. Every single time in the last two years that we have asked them to do it, they have done it. I don't have any apprehension inside me that they won't do it the next day."
McGuinness is only in his second year in the job and is on the cusp of delivering the ultimate honour.
It's a far cry from 2010 when he was scoffed for taking over a bedraggled bunch of players that had fallen more times than Our Lord and had themselves been crucified.
McGuinness has become Donegal's very own Messiah. Water became wine and the resurrection is almost complete.
Just one piece remains to be fitted to the jigsaw.
"These players are unbelievable to work with," McGuinness said.
"When I took over the job two years ago you would not believe the amount of people who said I was off my rocker, off my head and that I was taking a poisoned chalice.
"They said 'those players will let you down'. It has been the opposite of that.
"They have done everything we have asked and have brought on football in the county. I am delighted for them.
"They have worked very hard in the last two years.
"They have made a commitment to the county, a commitment based on the fact that they wanted to win things for the county.
"It is very satisfying that the hard work they've put in is now reflected by the fact that they have an opportunity to play in an All-Ireland final.
"I am delighted for the boys. I just hope that they can take the opportunity when it presents itself in four weeks time.
"It is a great position to be in. We will look at ourselves this week, then obviously we'll look at the other game next week.
"We will leave no stone unturned."
McGuinness was the picture of cool as he addressed the media.
He sat aside his captain as the once baying hacks were now completely captivated.
The Donegal manager felt that his side had been 'lethargic' in the opening half. Cork were on the field for four minutes before Donegal re-appeared for the second-half.
The interval rallying was crucial.
"The stakes were very high and it was in the players' minds," he said.
"We got them in at half-time and they got settled.
"We got them focussed on what is important to us as a team and how we operate.
"They took to that very well.
"There was more flow to our play in the second-half, particularly from the half-backs and midfielders.
"We had a lot of wides that maybe we would normally tag over.
"You can't give out about details like that on a day like today. It is brilliant for the supporters and a great lift for football in the county."
Noting the rise of the county under his watch, McGuinness said that he hadn't taken stock of the transition.
"I don't want to either," he said.
"I don't think it's important. I don't think I have ever seen myself playing and I only watch videos when I want to analyse the game.
"It is all about moving forward, developing and trying to bring people on.
"We want to make every player in the squad better. We want to make our own goals better. That is where our focus has been.
"Michael Murphy can get better, Colm McFadden can get better and Patrick McBrearty is only starting out so there is huge improvement in him.
"That challenge is there for us as coaches to get the best out of them. "
McGuinness cited Neil Gallagher as another example of that advancement. Twelve months ago, the Glenswilly man was a bit-part player; yesterday he lorded things in the middle of the park.
McGuinness said: "Neil is an example of a fella who had to develop in a different way to fit into the system we're trying to create. He has done that unbelievably well.
"He has a very good pair of hands, but he moves the ball a lot quicker than he did.
"He plays intelligent football and he adds a lot of value to us.
"He has taken the information to make him a better player and brought it back to the group.
"You don't get a chance to reflect because the job is the future."
The future now is the All-Ireland final.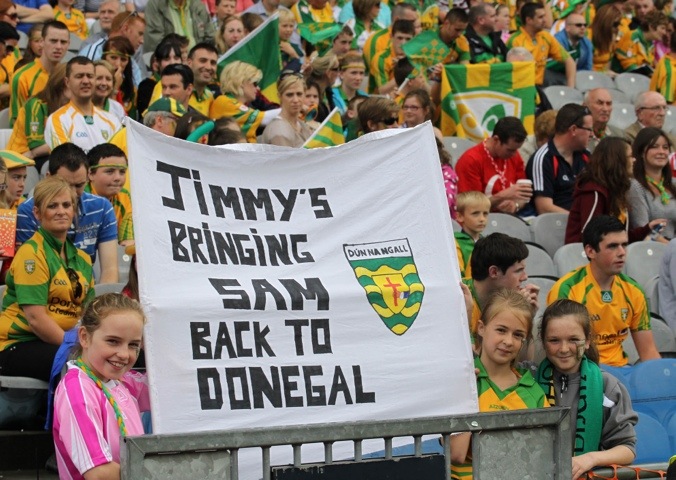 Posted: 8:45 am August 27, 2012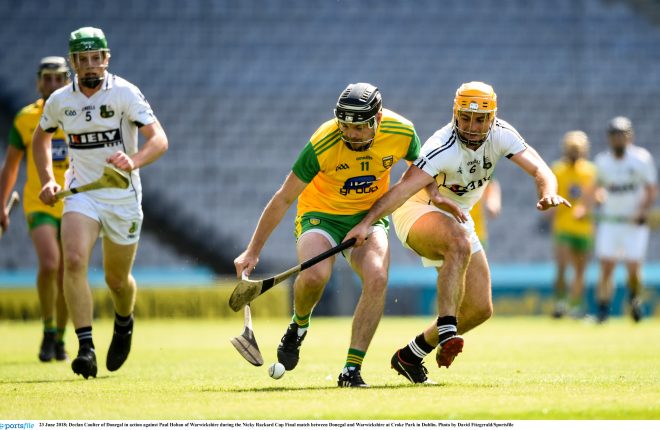 Donegal were too strong for Warwickshire