BY CHRIS MCNULTY
JIM McGuinness has a simple message to his Donegal team as the prepare for Sunday's All-Ireland SFC semi-final against Cork at Croke Park (3.30pm): Give it everything.
All-Ireland favourites Cork stand in Donegal's way of a second All-Ireland final appearance. Conor Counihan's 2010 champions dismantled Kildare in a lopsided quarter-final which has installed them as warm favourites to defeat Donegal in Sunday's last four showdown.
But McGuinness and Donegal have built a head of steam of their own and confidence brims in Tir Chonaill after a gritty quarter-final win over Kerry.
The Donegal squad spent the weekend putting the final touches to their plan to take on the Rebels.
McGuinness and his players were based in the Redcastle Hotel and they trained on Saturday and Sunday in Muff.
The Donegal boss has spoken openly of the threat of Cork's aerial power and ball-winning ability, especially from kick-outs.
Still, there seems a quiet optimism about him – though he recognises Cork as perhaps the most serious of all threats that remain in the race for Sam.
"Even if we give it everything and are competitive for the full 70 minutes, I still think that it will be a huge challenge and a huge battle," McGuinness told the Donegal News.
"The stakes are higher and we're seventy minutes from a final.
"The reward is unbelievable for our players. Cork have been in the final and won the final, but our lads have never experienced that and you would have to hope that there'd be a hunger and rawness in us to make the most of this opportunity."
McGuinness has had slight injuries preventing Mark McHugh (calf) and Martin McElhinney (knee) from taking part in training, but the manager didn't appear too concerned about either being in any danger.
"We have nothing major and nobody doubtful," he observed.
McGuinness says that his team must leave nothing behind them on Sunday as they aim to book a place at September 23rd's big day in the calendar.
A finely-tuned Cork have had the look of serious contenders about them, but Donegal's manager hopes his team come back down the M1 with no regrets.
"If you give it everything there is nothing left to give," he said.
"If they wake up on Monday morning and they feel there was another 20 per cent in them or that they could have done this, that or the other differently, that is when regrets will come in the door.
"If they're honest and give everything they have the people of Donegal will be proud and I'll be proud.
"Once you do that, you can look yourself in the mirror – I hope our lads can look themselves in the mirror on Monday morning and be happy."
Posted: 10:45 pm August 22, 2012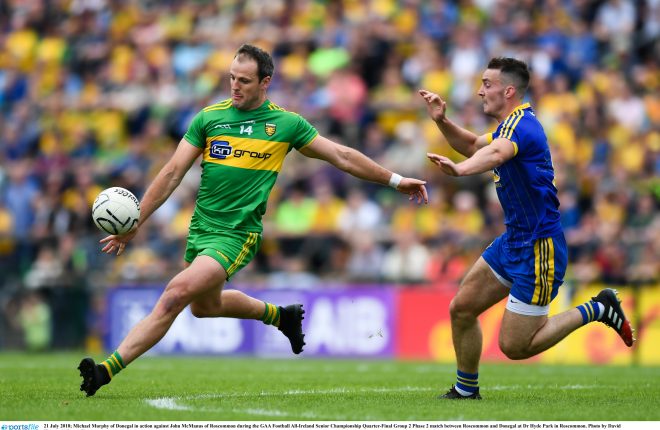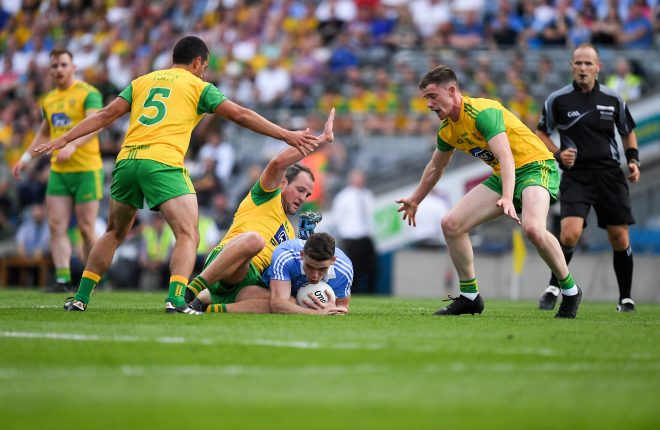 There were high hopes ahead of the first weekend of the Super 8s, but unfortunately the football didn't live...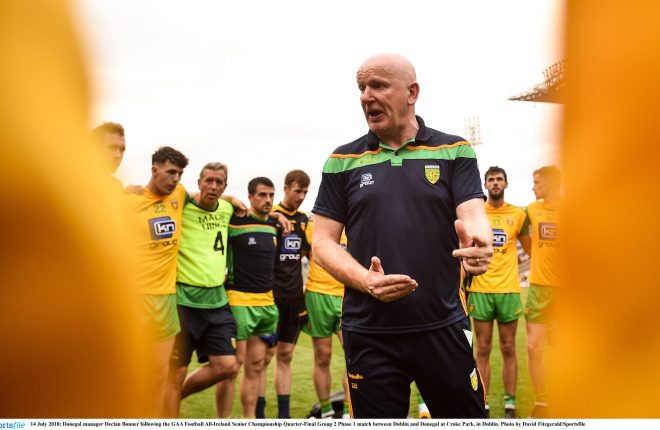 Donegal face Roscommon in Dr Hyde Park on Saturday at 5pm.