BY CHRIS MCNULTY
IF YOU want a player who embodies all that the GAA stands for then look no further than Donegal's rampaging Frank McGlynn.
The 26-year old schoolteacher is one inter-county player who can't be
accused of neglecting his club.
Away from starring in Donegal's All-Ireland bid, McGlynn spends his time managing the under 15 and under 16 teams at Glenfin. Last year, McGlynn was joint manager of the Glenfin ladies team that won its first-ever Donegal senior championship.
Glenfin is a small club that nestles at the feet of the Bluestack Mountains. The quiet-spoken McGlynn is typical Glenfin – hard work is the mantra he lives by.
"The more work you do, the more times you have the ball in your hand the better you are going to be," says McGlynn, who has been one of the stand-out players of the 2012 Championship.
Last year, he played a starring role as Donegal swept the boards in Ulster, before reaching the All-Ireland semi-final. Many felt at the time that McGlynn hadn't got the recognition he deserved. His unassuming persona seemed against him, though the All-Star committee took note and he was nominated for one of the full-back berths.
This year, he seems to be a shoe-in for an All-Star gong. His attacking forays are typical of the Donegal style of 2012 and his goal in the Ulster final was taken with all the predatory instincts of a lethal corner forward.
"Last year everyone was encouraged to get forward as much as possible and it's really no different this year," he says.
"I suppose I've been moved out the field to the half-back line, it's a better place to launch attacks from and is something that has worked.
"Jim has always encouraged us to do that whenever we could when you get on the ball as a corner back and you venture out the field, you're thinking 'I need to get back', but at wing-back you know that there's always someone to cover.
"It's easier to launch attacks – if you break thirty or forty yards you're in with a chance of scoring."
McGlynn has filled the void left by the departure of Kevin Cassidy, but it's been duck to water stuff for McGlynn, a teacher at remote Stramore National School, in the backdrop of picturesque Glenveagh National Park.
He is a regular feature in Donegal's attacks and it is not a rare occurrence for himself and Anthony Thompson, the team's wing-backs, to be the last line of attack.
The Tir Chonaill revolution has become an evolution this year.
"Winning back to back Ulster titles has shown that our system has worked already – against Kerry we put in a huge 70 minutes work, our work rate was pretty high – that was about 15 men coming together and working for the result rather than the system," says McGlynn.
"The system has been always in place, but other days we mightn't have got there. This time we had a bit of belief in ourselves and knew that we were fit enough to last the 70 minutes against a team like Kerry.
"We're lucky enough this year that there are plenty of people willing to cover you when you do pass them going up the field on an attack, they are always there to pick up the pieces when things do go wrong."
Donegal is on a real high as Sunday approaches and its people are beginning to dream again.
McGlynn has vague recollections of Sam Maguire returning to the village (Cloghan) in 1992. Now he has become the only man from his club to win an Ulster medal, he can sense what is at stake.
He says: "The victory over Kerry gave the people of Donegal a taste of what it's like to be up among the big guns, it's something they certainly enjoyed and as a team and a group we certainly enjoyed it.
"That probably has put a little bit of added pressure on us now to get past a team like Cork, but if we can do it and get ourselves into an all-Ireland final it will be special, not just for us – but for everybody in Donegal."
Twelve months ago, Donegal had a final place in their palms, but let the chance trickle through their fingers.
The memories of that defeat by Dublin are still raw.
"Last year's experience plays on your mind a little bit, I suppose we didn't have the belief in ourselves when it really counted going into the last 15-20 minutes," says McGlynn.
"I think going into this game, especially after the victory over Kerry, I think we have a lot more confidence and belief in ourselves. When push comes to shove now we have more belief to get over the line."
Last year, Donegal were in bonus territory. Ulster was the aim and they bridged a 19-year barrier in winning the provincial crown. The ending of the famine had softened the blow of exiting the All-Ireland race at the penultimate stage.
"This time, that won't be the case," McGlynn says.
"Our goals were set to get to the business end of the season and that's what we set out to achieve. A defeat this time would be so much harder to take, especially with the amount of hard work we have behind us."
Hard work – just what Frank McGlynn lives for.
Posted: 12:16 am August 25, 2012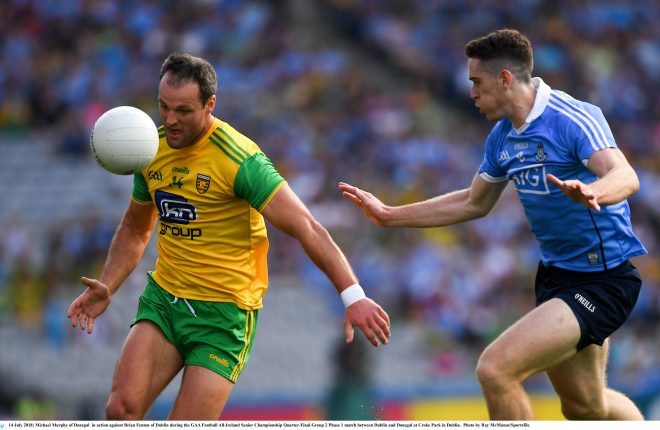 Dublin too strong in Croker.