BY CHRIS MCNULTY AT CROKE PARK
DONEGAL are just 70 minutes away from a second All-Ireland final – after a nerve-racking win over Kerry in yesterday's quarter-final at Croke Park.
The aristocrats of Gaelic football were toppled by Jim McGuinness's gutsy charges, who scored a memorable 1-12 to 1-10 win that has rekindled lofty dreams of September glory in Tir Chonaill.
A mesmeric 1-5 from Colm McFadden was the stand-out tally for Donegal.
His seventh-minute goal might have had a touch of fortune about, it but the Creeslough man has made his own luck – as have Donegal who staved off a strong fightback from Kerry.
The Kingdom staged a stirring comeback, awoken by a trademark goal from Kieran Donaghy four minutes from the end.
Before that, Donegal had sailed over four points in a row to hold a six-point advantage. Donaghy's goal planted seeds of doubt and Kerry came back to within two points.
Triple All-Star Karl Lacey stepped up with a score to ease the nerves and catapult Donegal back into the last four.
"It was a good win but we're only back in a semi final – where we were last year – and we'll have to try and go one step further this time around," cautioned match-winner McFadden.
An estimated 20,000 Donegal fans in the 56,191 attendance at Croke Park roared in unison as Marty Duffy blew the final whistle.
A titanic struggle had gone and again Donegal were above the water.
"It is significant for the supporters because it's the first time that Donegal have played Kerry and they've now beaten them in the Championship," said Jim McGuinness.
"That is significant and it may be too for some of the players who were on a very difficult road for a number of years.
"The most important thing of all is that it's a quarter-final and we've won it, we've progressed and we have an opportunity now to move a step further than we went last year."
Last year, Donegal were edged 0-8 to 0-6 by Dublin.
This time, it's Munster kingpins Cork who stand in their way.
Yesterday, Cork pummelled Kildare 2-19 to 0-12. On Sunday August 26th, Donegal and Cork battle it out for a place in the September 23rd final.
Posted: 9:42 am August 6, 2012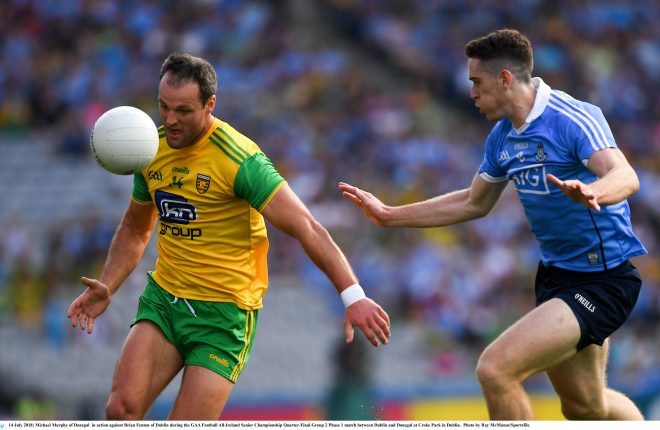 Dublin too strong in Croker.