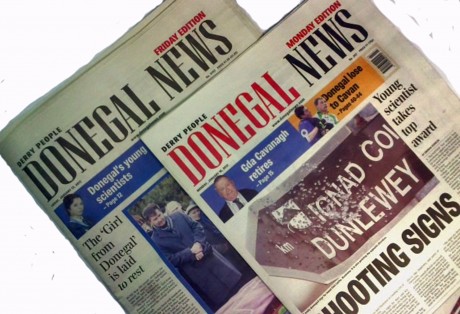 IT IS OFFICIAL, the Donegal News Group (including the Friday and Monday editions) is the highest selling newspaper group in Donegal, selling 14,445 copies per week.
The latest figures from the Audit Bureau of Circulations (ABC), the industry body for media measurement, show the average weekly circulation of the Donegal News (Friday edition) at 10,829 compared to the Donegal Democrat (Thursday edition) at 8,303. The latest figures reveal sales from January to June 2012.
Columba Gill, Donegal News Editor, stated: "The Friday edition of the Donegal News is now by far the strongest selling paper in the county and I would like to thank all our readers for making us their number one choice."
The Donegal News ABC registered parent group, North West of Ireland Printing & Publishing Group, recorded an ABC figure of 50,218 copies per week (titles included:  Fermanagh Herald, Ulster Herald, Strabane Chronicle, Tyrone Herald and Donegal News Monday and Friday editions.
Posted: 11:36 am August 31, 2012