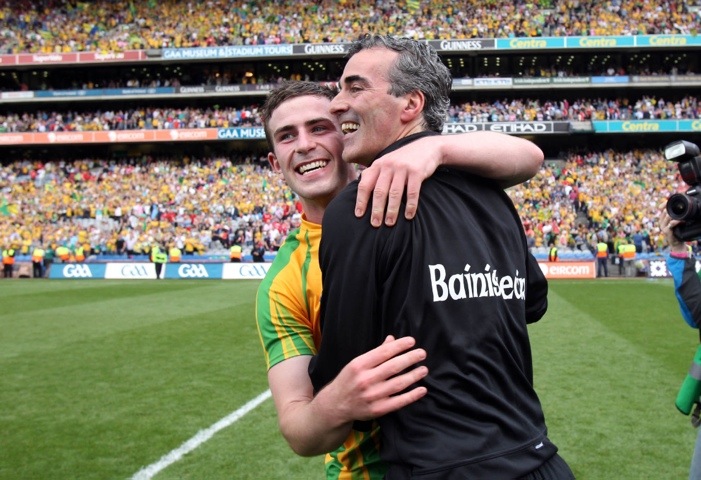 BY CHRIS MCNULTY AT CROKE PARK
DONEGAL are back in the All-Ireland final.
Grown men wept in Croke Park yesterday as Donegal finally got back to September's big party.
A devastating second-half saw Jim McGuinness's charges tear All-Ireland favourites Cork apart.
On the weekend that the first man on the moon, Neil Armstrong, passed away, Donegal themselves took 'one giant leap' yesterday.
Nine different players got on the scoreboard as Donegal scored a 0-16 to 1-11 win that was much more comfortable than it reads.
Donegal kicked eight second-half wides and they should actually have been firmly out of sight by the time Colm O'Neill stole in for a Cork goal in the final minute.
Neil Gallagher gave a majestic centrefield performance that saw him get the Man of the Match award; Mark McHugh was omnipresent at times; and Karl Lacey could hardly have dreamt of a perfect script for the occasion of his 100th game for Donegal.
Jim McGuinness even offered to do a summersault for the media after the game!
"I am unbelievably happy inside and I am very proud of the lads," said the Donegal manager.
"I am very proud to come from Donegal.
"Twenty years is too long for us not to be in a final. We're back there now. We have worked very hard to get there.
"We are trying to put medals in these boys' pockets and we're very happy with today because it gets them closer to another one."
His evolution has taken one more step – and they are now just seventy minutes from greatness.
"These boys have four of the best weeks of their lives ahead of them," McGuinness said.
Around 40,000 Donegal fans were the 16th man yesterday in an attendance of 55,169 that was captivated by a fascinating battle.
Donegal held sway, but only just, at half-time when a fisted point by McHugh put them 0-8 to 0-7 in front.
No-one could have foreseen what next would happen: the Donegal tsunami swept through the shell-shocked Rebels and outscored them by 0-8 to 1-4 in part two. It's some difference from twelve months ago when Donegal managed just six points in a semi-final defeat to Dublin.
"Our training will have to go to a new level again and we'll have to improve every aspect of our play again," said McGuinness.
"We will need to prepare as best we can and after that we have to trust them to do the job.
"That's the way we have approached all the games for the last two years.
"Now is about the next four weeks and a very good focus on the job at hand. I am looking forward to that and I am very excited about that.
"They don't pay attention to criticism and they don't get too excited when we win.
"They just look, like myself, and say 'right, this is what we need to do and here is how we're going to do it'.
"I have no fear that that will change in the next four weeks."
1992 captain Anthony Molloy addressed the team in the dressing room after the game.
Even Daniel O'Donnell, complete in the Donegal regalia, and Mickey Joe Harte popped down to say well done.
It's going to be some month!
Donegal: Paul Durcan; Paddy McGrath, Neil McGee, Frank McGlynn (0-1); Éamon McGee, Karl Lacey (0-2), Anthony Thompson (0-1); Neil Gallagher, Rory Kavanagh (0-1); Ryan Bradley, Leo McLoone, Mark McHugh (0-1); Patrick McBrearty, Michael Murphy (0-3, 3f), Colm McFadden (0-5, 2f, 1 '45). Subs: David Walsh (0-1) for Bradley (30 mins); Martin McElhinney (0-1) for Kavanagh (58 mins); Christy Toye for McFadden (70 mins); Daniel McLaughlin for McBrearty (70 mins).
Cork: Alan Quirke; Noel O'Leary, Michael Shields, Eoin Cadogan; Paudie Kissane, Graham Canty, Fintan Goold; Alan O'Connor, Aidan Walsh (0-1); Ciarán Sheehan (0-3), Paddy Kelly (0-1), Paul Kerrigan (0-2); Colm O'Neill (1-3), Donncha O'Connor, Daniel Goulding (0-1, 1f). Subs: Pearse O'Neill for Goold (half-time); Denis O'Sullivan for A.O'Connor (47 mins); Nicholas Murphy for D.O'Connor (55 mins).
Referee: David Coldrick (Meath).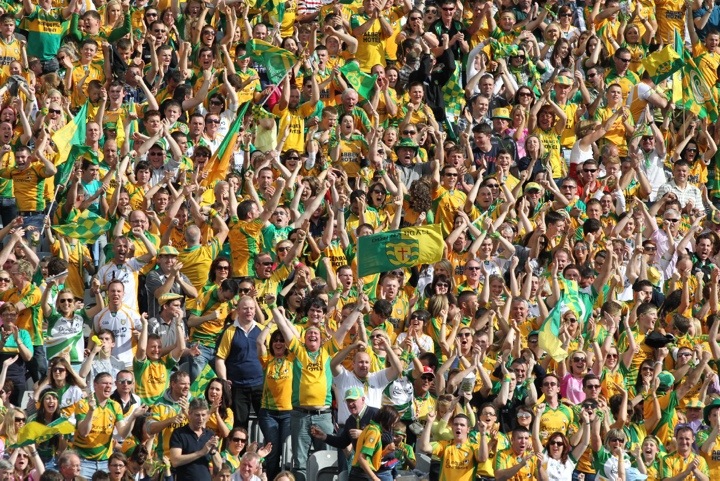 Posted: 10:22 pm August 26, 2012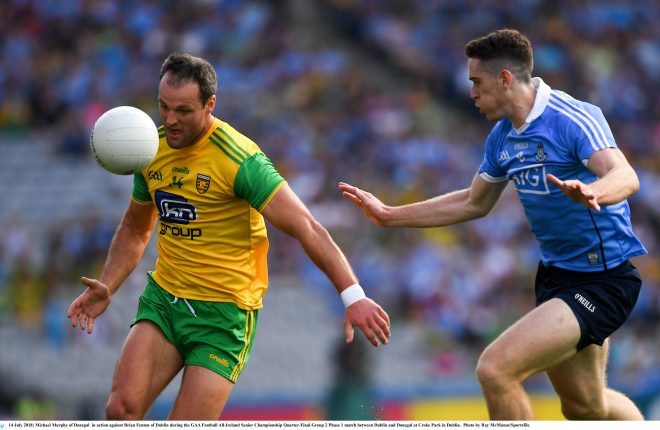 Dublin too strong in Croker.