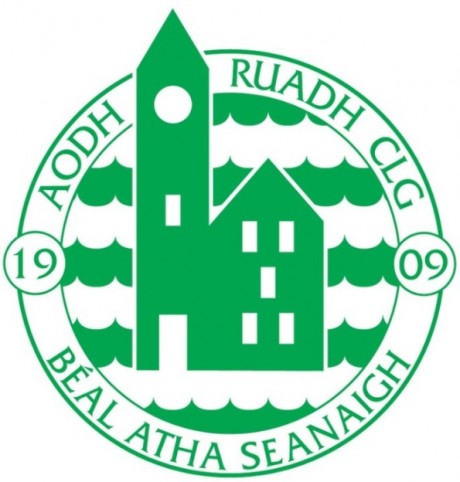 MANY congratulations to Donegal on making the All-Ireland final with a superb performance against Cork. We have some pictures from the match up on www.aodhruadh.org.
We do not expect full details on ticket allocation until after the second semi-final between Mayo and Dublin. In anticipation of the demand for tickets the following two points should be noted. Full payment of any outstanding membership fees is a precondition of any ticket allocation.
Secondly, the club insists that all interactions with members of the club executive in relation to tickets are conducted respectfully.
Any use of foul or threatening language, or any appeal to unfair methods of persuasion to a member of the club executive will prompt immediate disqualification from any consideration for a ticket allocation.
Meeting: The monthly senior club meeting takes place on Thursday 30th August in Aras Aoidh Ruadh 8.30pm. All committee members are asked to attend.
Football: Aodh Ruadh continue their battle against relegation this Saturday with an important trip to Burt. The reserve game throws in 5.30pm and is followed by the seniors at 7pm.
The minors failed in their bid to take their championship contest with Kilcar to a third game last Wednesday. Aodh Ruadh held a 1-6 to 1-3 advantage at half time, but it was never going to be sufficient playing into a significant breeze in the second half.
Kilcar reeled off six unanswered points at the start of the second half to effectively seal the win. It was a disappointing performance from Ballyshannon, with the team seeming strangely out of sorts. Among the best for Aodh Ruadh were Daniel Kelly in nets who had little chance with the goals, made a number of fine saves and did the best he could with the kick outs while Colm Kelly lead the way, showing the kind of aggression that the game demanded.
There is a full match report and pictures on aodhruadh.org. The minors will be in county minor semi-final action on Friday, 31st August when they take on Saint Eunan's in MacCumhaill Park at 7.30pm. Once again, we will be looking for good support at that game.
Aodh Ruadh's under 13s face Bundoran in their league opener in Father Tierney Park on Friday, 31st August.
Under 8 training continues this Friday from 6pm to 7pm.
Hurling: The under 16s qualified for the county league final on Thursday last by defeating Setanta in the semi final in Fr. Tierney Park. The lads put in a good all round team performance and ran out convincing winners. They meet their Inishowen rivals Buncrana in the final, they have had some great battles over the last few years at under 14 and 16 level. The final on the 6th of September is sure to be another hard fought encounter.
The under 12s made the long trip to Carndonagh on Thursday last and came away with a narrow victory on a 5-3 to 4-3 scoreline. They have their final game in the league at home to Burt this Thursday, throw in at 7pm. a victory in this game would ensure a top four finish in the league for the lads.
Good luck to all under 14s and under 16s involved with the county squads who are taking part in the All-Ireland Blitzes on Saturday.
Our third load of aluminium cans left Father Tierney Park for recycling on Monday, we thank all the community and business section who have supported our recycling efforts to raise much needed funds for Aodh Ruadh. Our recycling campaign continues and the next day for collection of aluminium cans for recycling will take place at Father Tierney Park on Saturday 8th September from 12 noon to 1 p.m. Anyone who wants any information in relation to this campaign or who have other items of scrap they wish to dispose of please contact John Rooney 086-2587793 or Kieran Drummond 086-2368295.
Ladies: Last Tuesday evenings saw the under 16 girls take to the field for the first time this season against Saint Naul's. It was a difficult task for both players and manager Claire Flood, who had come together for the first time since the loss of their much loved manager Colman Kerr, RIP.
A minutes silence was observed in his memory before the throw in. In true testament to Colman the girls pulled and dug deep to come out on top with a comprehensive win over the visitors. On Thursday evening the girls traveled to Ardara, where they continued they're winning form, with another big win over the homesters. On both evenings conditions were difficult but the girls pulled through with ease and displayed true heart and dedication, with great all round team performances. We have pictures from the Saint Naul's match up on aodhruadh.org. This Tuesday evening the girls will face Four Masters at home at 7pm.
Aodh Ruadh ladies would like to congratulate Tara Khan who played at corner back for the Donegal senior ladies last Saturday in the All-Ireland quarter-finals against Cork. In what was always going to be an uphill battle for the girls, without some key players the ladies struggled and were defeated on the day.
Bungo: This Friday the Abbey Centre plays host to a bumper bingo with a jackpot prize of €1,000 in last game on 50 numbers or less and six games with house prize of €100 and four games with house of €150. All lines are €40. Bring a friend for a great night of craic and prizes.
Race For Sam: Very little change at the top this week. Johnny Gallagher and Falcarragh Shamrocks have hung onto their six point lead after getting 10 points this week as did Rory O'Neill and Ice Cream Rovers. Michael Doherty and The Docs have jumped up to third after getting 13 points (Donegal-10, M Murphy-3). Bernard Drummond and Barney the bookie scooped the same score to move himself into fourth position, only one point ahead of both Moya Ferguson and her Magic Hands and Declan O'Mahoney's Team Tinakill. The position at the bottom remains unchanged with Brian Boyle and The Apprentice in last place with Finbar Gethins Finner Forever two points ahead of him. With only two game weeks left, it is all going to come down to the All Ireland final. View the week 12 leader board on aodhruadh.org or in The Bridgend Bar every Tuesday.
Strictly Come Dancing: Once again Aodh Ruadh and Ballyshannon Musical Society are hooking up to bring you a Strictly Come Dancing extravaganza. Many of you will remember the great night we had last year in the Great Northern and the wonderful dancing we were treated to. We are now looking to find the new dancing stars of Ballyshannon. If you might be interested please give Emma Gaughan a call or text on 0863039610.
Lotto: There was no winner of the €2,400 Aodh Ruadh Lotto jackpot last Sunday. The numbers drawn were 2, 6, 10, 12, 14 and 17. In the lucky dip €20 each went to: Aisling Sheerin, Assaroe Heights; Mark Vance, Carricknahorna; Abby Brennan, c/o John Patton; Maureen Keenaghan, Coolcholly, and Jimmy Ryan, Cloghore. Next draw is in The Bridgend on Monday at 8.30pm. The jackpot is €2,500 so get out there and buy your ticket; if you're not in, you can't win!
Posted: 12:07 pm August 28, 2012