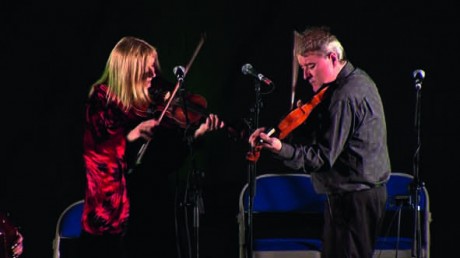 ALTAN make a return to their own backyard to perform an intimate concert at Ionad Cois Locha, Dun Luiche as part of this year's Loinneog Lúnasa Festival on Friday, August 10 (8.30pm).
Altan's music has always been true to the roots from which it has grown, always injecting something new as they approach a set of tunes, or something beautiful when Mairead Ní Mhaoanaigh's voice floats over slow air or a love song.
This will be the first time since the annual Frankie Kennedy Winter School in December 20122 that Altan perform in West Donegal. Since they have been busy promoting and touring all over the world with their latest album.
Their new album Gleann Nimhe – The Poison Glen combines all of the freshness that is characteristic of this great band, together with a rare depth and purity that can only come from the souls of superb musicians.
Also performing at the popular Lakeside venue as part of Lionneog Lúnasa is renowned guitar virtuoso Steve Cooney, who takes to the stage the next night, Saturday, August 11.
Australian born guitarist, bassist, producer and didgeridoo player Steve Cooney is one of the most dynamic modern performers in traditional music.
He's also a fine composer, known mainly for the reel Skidoo which was originally recorded by Stockton's Wing and since recorded by Sharon Shannon amongst others. He's a noted songwriter too and his songs have been recorded by artists including Altan and Mary Black.
Loinneog Lúnasa celebrates the Musical and cultural heritage of Gaoth Dobhair. There are few areas in Ireland that can boast such a wealth of internationally renowned musical acts.
Posted: 11:12 am August 1, 2012