BY CHRIS MCNULTY 
JIM McGuinness stopped short of saying that he was considering withdrawing Donegal from the 2013 Dr McKenna Cup when he addressed Monday night's county committee meeting in Jackson's Hotel.
The Donegal manager was attending the meeting to appraise delegates on the county's season so far – and the Glenties native questioned the value of the McKenna Cup to Donegal having endured a turbulent January in the secondary competition this year.
"The McKenna Cup, looking back, was a negative sort of a campaign for us," said McGuinness.
The manager had previously slammed a number of things that went on in January and it seems, from his comments on Monday night, that he is giving serious consideration to Donegal's participation next year – perhaps seeing more worth in having a month of challenge games.
"There are definitely things we need to look at for next year in relation to making it work for us. The validity of it as well, in relation to the question of if we're getting the benefits out of it, has to be looked at too.
"It is something that we will need to look at in the off-season, but at the moment it's not really working for us.
"We will look at that at the end of the year."
This year, McGuinness had to play in the McKenna Cup without several of his players who were tied to their colleges. The rule where the college teams have first preference on players for these sorts of competitions has been a bone of contention for a lot of county managers, including McGuinness.
Matters came to a head when McGuinness and Niall Moyna, the DCU manager, clashed publicly over the availability of Martin McElhinney. McGuinness became incensed when Moyna accused McGuinness of 'abusing' the player after he returned to DCU with an injury sustained while attending a challenge game.
It appears that, once the 2012 Championship is done and dusted, that McGuinness will weigh up his options regarding Donegal's participation in 2013 – with a likely scenario possibly seeing the McKenna Cup used as a preparatory exercise for the county U21 team with the seniors fielding in challenge games during January as a warm-up for the National League.
In relation to this year's League campaign, the Donegal boss said he felt they had a positive campaign.
"We tried out a few things in the League with a view to the Championship and we worked on a lot.
"We lost a few games in the process of doing that and we won a few as well. Thankfully we were able to stay up at the end of that transition.
"We are happy we done that – and we're happy we done it when it counted in competitive games. We got the answers that we were looking for in a lot of cases."
And on the championship exploits so far, McGuinness was delighted at leading the county back into the Ulster final.
"Things that we worked on in the League we implemented properly against Cavan and Derry, which took us into the last day against Tyrone," he said.
"Tyrone gave us a huge challenge and it was a huge test of character for us. This is something we have been building on for the last 18 months and we were delighted to get through it.
"We were pinned to our collars in the first-half and Tyrone asked serious questions of us. We were able to pull through, which was brilliant."
McGuinness paid tribute to the county board for their assistance  while he also thanked those clubs who have provided their facilities for training and preparation.
Posted: 3:05 pm July 7, 2012
County Board now searching for a replacement.
Last year it cost approximately €1.5 million to run Donegal GAA, an increase of some fifty per-cent on the...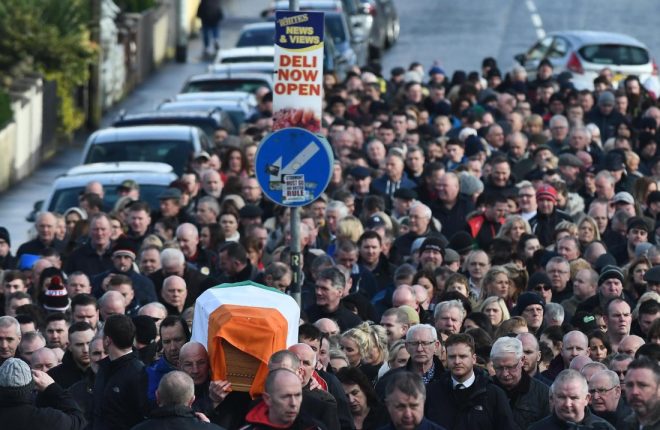 Images from around the County and beyond this week. From the burial of Martin McGuinness to Fanad Lighthous 200...