BY CHRIS MCNULTY
WHEN Clive Woodward was appointed coach of the England Rugby team in 1997, he gathered his players at Bisham Abbey and laid down a marker.
Woodward was ahead of his time in many ways.
He was a visionary and he had a plan in his mind about how he would lead England to rugby's Promised Land. It was radical; rugby had never seen its liked before.
That morning at Bisham Abbey a fair few eyebrows raised as Woodward spoke.
Just seven weeks stood between his first meeting with the players and his first game – a Test match against Australia.
Woodward told the assembled players that England could compete with the class of the feared southern-hemisphere nations.
"These teams can be beaten," Woodward told his audience.
"They are human and their games and image have fundamental flaws. From now on, our sole aim will be not to copy them but to practice a game and a style of play that can beat them convincingly every time.
"We'll play, coach and manage rugby in a way that is so different to theirs that they will be copying us for a change. Until we achieve that, nothing else matters."
In emphasising his point, Woodward had a few short statements that he'd repeat to his squad over and over.
One of those, in particular, Donegal manager Jim McGuinness can relate closely to: "Hannibal won his wars by doing exactly the opposite to what his enemies thought and tradition had always dictated."
Woodward's book 'Winning' is one of McGuinness's favourites – and it's easy to see why.
A lot of Woodward's methods can be seen in some of what McGuinness has done with Donegal.
Last year, he was derided from all quarters for having Donegal play a uniquely defensive brand of Gaelic Football that had the purists calling for his execution.
It reached a crescendo after an All-Ireland semi-final in which Donegal scored just six points against Dublin. Vindication for McGuinness, though, was the fact that Donegal could and, it could be argued should, have won that game. They lost by just two points.
That afternoon as he spoke in the press room deep in the Hogan Stand, McGuinness's mind was already flickering to 2012 – and how he could evolve that style.
"We need to see if we can sort out the offensive side of things and make ourselves better, sharper and slicker. That is the challenge for us. We have never said that we're the finished article," McGuinness told reporters.
This weekend, McGuinness leads Donegal into their second successive Ulster final – bidding to retain the Anglo-Celt for the first time in Donegal's history.
Since Down's retention of the prize in 1961, the trophy has been retained on only seven occasions, including the three-in-a-row by Armagh in 2004, '05 and '06.
The history books can be re-written by McGuinness – who has made no secret of his desire to see Donegal become more offensively-minded. But with one key point – that they don't neglect that rigid defence that made they so hard to beat in 2011.
"We didn't get enough scores on the board last year and we've worked hard on that side of things. Hopefully we can bring that form into the final," says McGuinness.
"We have put a lot of work into it. We realise we didn't get over the line last year. We kicked just six points in an All-Ireland semi-final and we had to kick on from that. We worked hard on that and hopefully we'll get the type of performance that'll keep the scoreboard ticking over.
"We want to bring to the table something we didn't last year and that's more expansive football in the final third. We'd be happy having done that in the games so far but we want to push it further, while maintaining our good work defensively."
Down come into Sunday's final very much under the radar with little talk about the Mournes. Having been installed as raging hot favourites there's a danger that Donegal could get carried away before a ball is throw in.
However, McGuinness has insisted that his players will not divert their focus.
He said: "Our goals are now different but the hunger is the exact same. It's not as if our players have three All-Irelands and five Ulsters like the Tyrone ones do. We're coming from a very low base of achievement and maybe for some of the boys at the highlight of their career, or coming towards the twilight, there's a big, big opportunity for us.
"They haven't been blessed with a number of medals in their careers and this is an opportunity to get another one. That in itself is a huge carrot on a stick. As a manger you just hope the work that you've done and work they've done will stand to them. They can go out and follow on from the gameplan and the work we did in the winter and express themselves.
"Winning last year was about the players as they're the focal thing here. I was delighted to be part of the set-up, to see the cup coming into the dressingroom and seeing their faces. It's a special thing to be involved in that and that was the most special thing. It's no different on Sunday week. It's the same thing driving us now."
Donegal's story has now gone from revolution to evolution – and McGuinness was satisfied with his team's lot from their Ulster semi-final grilling from Tyrone.
It was the fiercest test his team had been put through – and they came out scarred but triumphant.
On the scoreboard, there was a pointer to Donegal's offensive improvement.
"We were happy, especially when you consider we only kicked six points (and two goals) last year, it was 2-6," says McGuinness.
"This year was a step forward and we want to harness that work we did in the winter, and in the previous rounds of the championship, to bring it forward another level.
"We've a fair idea Down will bring that type of performance so it could make for a good day of football.
"Tyrone made life very difficult for us the last day. They've top players and had a very focused and determined system. It wasn't easy for our lads but we kicked 12 points and we were very happy with that. On another day I would feel that was 15 or 16, it was only 12 because of the player we were playing against and the quality of their system.
"Tyrone have excellent players that were unbelievably well coached for that game by Mickey Harte. They were ready for the game and they were ready for our system. They asked a lot of questions of us but it was nothing we didn't expect. I expected that of Mickey Harte and Tony Donnolly and our players were expecting it as well.
"For me, the most pleasing thing was even when all those questions were asked, we didn't press the panic button and we held our composure and worked our way through the game. We managed to squeeze five points in a row at a very important time of the game but they continued to ask a lot of players. Every player on the pitch held their composure at the tightest part of the game."
Paul Durcan's late, late save to deny Martin Penrose an equalising goal – when the Four Masters 'keeper's left leg diverted the rocket onto the post before rebounding to safety – could become Donegal's Hand of God moment in time. Time paused as Penrose let fly, but fate's great script writer decreed that Durcan would be the hero when the credits rolled.
McGuinness says: "It would've been devastating if Martin Penrose had scored a goal at the end. Like any championship match you put so much into, you hope to come out at the other end. Even a draw would've been a hard thing to deal with. To go through it was very encouraging."
Donegal have moved onto a higher rung as regards their own preparation for games, too. Before the Derry game, the squad spent the best part of a week at Johnstown House in Enfield. McGuinness ran through those little details he is so fond of.
There is a bond that seems to have strengthened in the Tir Chonaill ranks this year. The unit seems tighter and McGuinness smiles as he alludes to this point when discussing the Johnstown House trip.
"It was a great chance for the players to bond and get to know each other. It was great to have them in an environment where they're under no pressure to go home, under no pressure to get up for work and to have them interacting," he says.
"I think we spent half the time playing table tennis – my table tennis skills have improved significantly!
"It was a great environment where they could really focus on football and talk about it.
"We had a very good atmosphere and we made it as professional as possible in terms of the timing of everything. It was good to have everyone on the one page. We came back with a terrific performance against Derry and that built confidence, which gave us traction going into the Tyrone game."
One of the key elements of 'the peak state of winning' Clive Woodward mentioned was "people on their feet going nuts – a performance your supporters wildly applaud'. England won the 2003 Rugby World Cup under Woodward.
Donegal has gone to fever-pitch levels of late. The county got lost in euphoria for a few weeks last summer and the buzz is building again with a sell-out at St Tiernach's Park expected for Sunday's game.
"I was out running yesterday, on a loop I do around the house, and a car passed. There were a couple of kids in the back with Donegal jersies on, looking out the window. They're all thinking, they're all dreaming and all looking for their parents to take them to the games. You couldn't buy that – and the players are aware of the impact they have on peoples' lives," says McGuinness.
"Obviously these are very difficult times economically, but people in Donegal aren't thinking about that. They are looking forward to the game and they think this is a very good Donegal team that they can get behind. We have a chance to do something now that has never been done before in the history of the county. That would be another shot in the arm for all those young kids and all those supporters."
Posted: 11:14 am July 21, 2012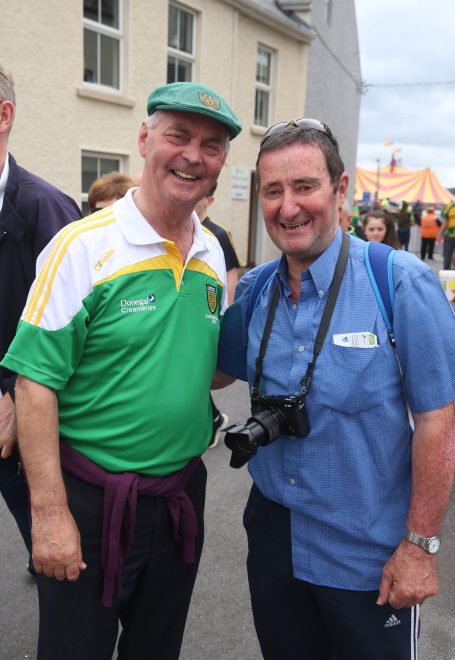 The Glenties native has captured images from thousands of games for local and national publications, including the Donegal News,...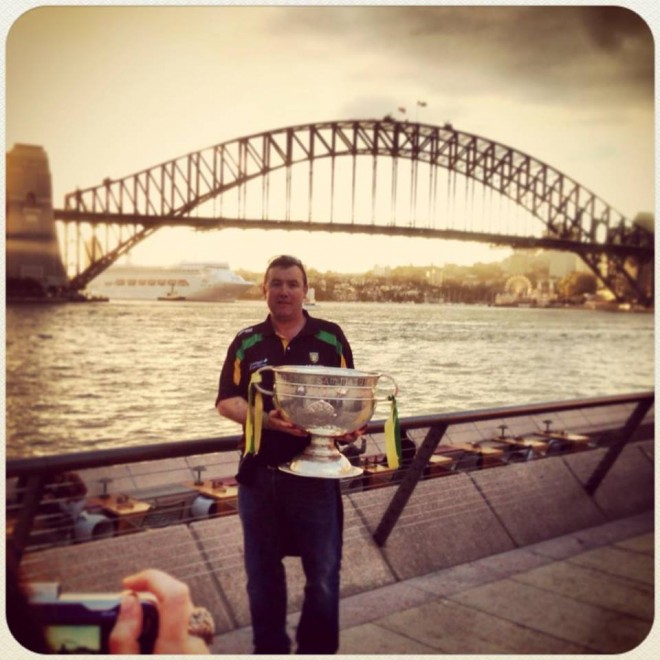 Donegal have been without a Cisteoir since July when St Naul's clubman Cieran Kelly stepped down, and the Executive...