BY AIDAN O'DONNELL
FINN Harps boss Peter Hutton insists his side need to improve on their discipline ahead of tonight's meeting with Mervue United at Finn Park (kick-off 7.45).
Harps slipped to their eighth defeat in nine games last weekend when going down three goals to nil against Limerick at Jackman Park.
Hutton's side competed well with the title contenders and were only trailing 1-0 with under twenty minutes remaining until a moment of madness destroyed any chance of the visitors from getting anything out of the game.
Referee Sean Grant overturned his original decision to award Limerick a free-kick on the edge of the box and instead pointed to the penalty spot, from which Shane Tracy scored.
But before the spot-kick was taken, Harps midfielder Thomas McBride reacted angrily with the referee and ultimately got sent off for needless dissent towards the official.
It's the second time this season McBride has got sent off and fourth time, in all, that a Harps player has received his marching orders.
Harps have also picked up 26 yellow cards so far this season and Hutton believes such behaviour is completely inexcusable.
He said: "We definitely could've done without it. Our discipline, in general, has to improve. The amount of yellow cards we're picking up is just not good enough. You don't mind if someone gets booked for a tackle but to get booked for dissent is not acceptable.
"We don't need it, given the small squad we have and the amount of injuries we've had to contend with this season. The referee's assessor came into our dressing room afterwards and explained that it wasn't a penalty but Thomas still shouldn't conduct himself the way he did.
"We have to wait to see what the disciplinary committee say now in terms of how long a suspension he will have to serve. But given the fact that he was already sent off this season, they could take that into account and he could be looking at a lengthy ban."
On the upside, Hutton is hoping to have a direct replacement ready to step in to fill the void created by McBride's suspension.
Former Harps players Michael Funston and Mark Scoltock were both waiting for international clearance to come through to allow them to be available for selection, having recently signed for the club during the July transfer window.
"Hopefully, we'll get the clearances through by 5 o'clock on Friday and that they're available for Saturday. With Michael it should be a lot more straightforward because he was playing in the north and it's more domestic, whereas Mark last played in England so it just might prove a little more complicated," said Hutton.
Mervue arrive in Ballybofey feeling a similar a sense of frustration and disappointment following last week's collapse against league leaders Longford Town at home.
Johnny Glynn's side lead 3-0 at half-time but a manic second half saw the midlander's somehow salvage a 5-4 win late on, while Mervue ended the game with nine men following the dismissals of Pat Hoban and Tom King, both of whom won't be available this weekend.
Harps beat the Galway outfit 4-3 in Ballybofey earlier in the campaign but then suffered a shock 3-0 defeat at Fahy's Field and Hutton insists their opponents are not to be taken lightly.
He said: "We beat them up here the last time we played them at Finn Park but obviously they beat us fairly comprehensively down at their place, which was actually their first win of the season. We were just very complacent and it was a case of men against boys.
"We'll be expecting another tough game now. They'll be smarting from last week's game having conceded a goal right at the end to lose against Longford.
"But we just have to concentrate on our own game and what we can bring to the table. We're well capable of beating Mervue at home if we play to our best."
Harps' 5-1 win against SD Galway before the break is the only three points they have collected from their last eight league outings and Hutton believes they can't afford to look too far ahead of their next game on Saturday night.
"The players are talking about going on a run and that's all well and good but the focus should just be to get that first win under the belt. You can't afford to get ahead of yourself, you have to deal with what's in front of you first and foremost.
"The performances haven't been too bad at all recently but we just haven't been getting the results. So I don't mind if we win ugly this weekend, as long as we win," said the Harps boss, who was delighted to see Keith Cowan come through last week's game unscathed.
He added: "Keith came through the game well. He was a bit stiff and sore afterwards but he got another forty-five minutes under the belt in a friendly against Cliftonville last Sunday and that helped to shake off any stiffness."
Posted: 2:51 pm July 7, 2012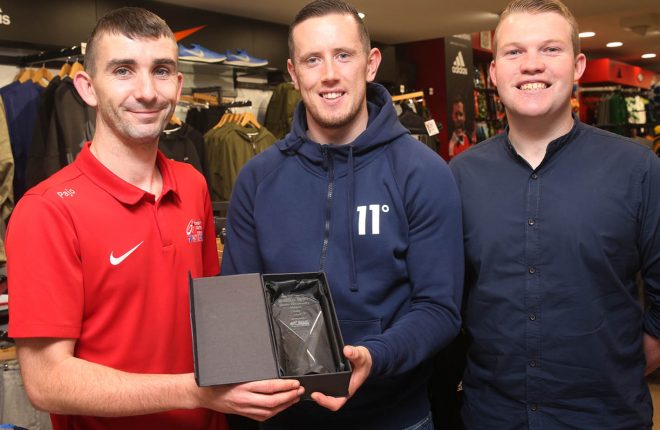 Gallagher was awarded the Donegal News Sports Personality of the Month award for July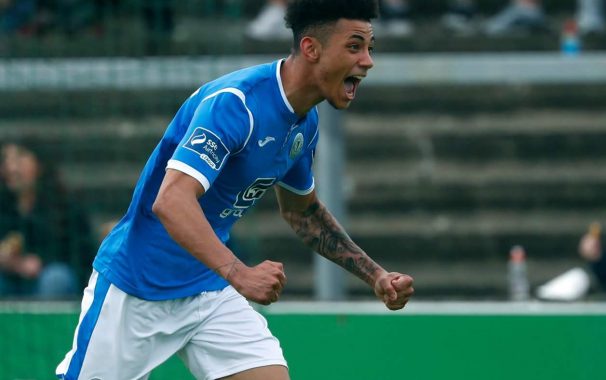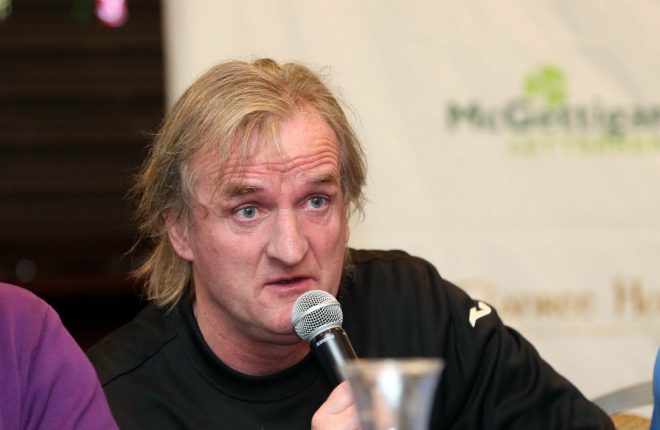 FINN Harps manager Ollie Horgan is wary of Galway United as they make their way to Ballybofey for a...