BY CHRIS MCNULTY
BARE statistics can sometimes be misleading.
Cavan have won the Ulster senior football championship 39 times, the most of any county in the province by some stretch – their next nearest challenger is Armagh with 14.
At the other end of the spectrum, Donegal are one above title-less Fermanagh with their 2011 triumph the sixth occasion on which the Anglo-Celt cup came to Tir Chonaill.
Cavan is steeped in GAA tradition. It was the county that gave us the Anglo-Celt Cup, donated by the newspaper of the same name. Time was when Cavan was a feared name in football circles.
They still carry the weight of history, but the Azzuri has lost many of its alluring powers, with just the sole success of Martin McHugh's crop from 1997, in the last 42 years.
But the landscape has changed and changed utterly for the Breffni blues – and Donegal, the current holders of the Ulster title, are the raging favourites for the game against a youthful Cavan.
Upheavel dominated the Cavan story following the National League. They avoided making the drop to Division 4 by the skins of their teeth and Val Andrews was chopped and Terry Hyland installed.
This week, Hyland showed his hand, confirming that five players would make their first Championship appearances on Sunday in Breffni Park. Cavan Gaels trio Kevin Meehan, Robert Maloney-Derham and Niall Smith have all been named in the starting line-up, while Jack Brady and Brendan Fitzpatrick have also made the cut. Brady didn't feature at all in the National Football League. They include five of the 2011 Ulster U21 championship winning team and Jim McGuinness has insisted that the favourites tag along won't win the day.
In urging caution, McGuinness referenced the Donegal senior final of 2005 when the whipper-snappers of Naomh Conaill stunned favourites St Eunan's. The cliche of 'it all being on the day' rings true.
"We were 6/1 to win a club match in 2005 and I had a fair idea in my heart that we could win that game," said McGuinness.
"The opposite can be true as well: You can be 6/1 on and you can lose. That's reality," said McGuinness, swatting aside the notion of the turf accountants' view of his side.
"It is just a number that people throw out. To us it isn't important."
Donegal have had a nunber of injury concerns of late with Neil Gallagher a big doubt with an Achillies injury similar to that which will restrict Christy Toye's appearance to that of a sub on Sunday, while a hamstring complaint left Eamon McGee in a race against the clock and Karl Lacey was back in training for the first time last Friday since picking up a hamstring injury of his own.
That's not to mention the fact that Donegal come into this war with Michael Murphy, their captain and talisman, sidelined with a knee injury. The effects of his absence is not just felt on the field.
"Even in training when you don't have him with you it's a massive loss," says Lacey.
"I think the likes of Neil McGee might be getting it a bit easier in there! It's just up to everyone else to show the leadership that we need with Michael out. We just have to step it up."
Most of the Donegal team picks itself for Sunday, but there are those few positions that are up for grabs. It's generally accepted that four of the six attacking berths – those filled by Mark McHugh, Ryan Bradley, Patrick McBrearty and Colm McFadden – are claimed. Adrian Hanlon is said to be close to a starting spot, while Martin O'Reilly, David Walsh and Dermot Molloy might have something to say about that.
Molloy's form has dipped this year and with left-footers McBrearty and McFadden said to be shoe-ins, the Naomh Conaill man might miss out. Walsh's industry could be seen as his advantage, but what's to say that McGuinness might unleash another secret weapon in O'Reilly on the Breffni – as he did with McBrearty last year when the Kilcar man clipped 1-3 on his first championship start.
O'Reilly has been Donegal's bright light so far and must be very close to getting his name inscribed aside one of the fifteen spots. If he plays a part, he'll become the first MacCumhaills man since Shane Bradley's late cameo as a sub against Antrim in 1998 to play championship football for Donegal. Amazingly, a start will see him stand next in chronological order to Brendan Dunleavy in 1989, 23 years ago, as a player from the club to start a senior championship match for the county.
O'Reilly has close ties to Cavan – his uncle Tom is the Cavan county chairman – but the energetic Marino student seems tailor-made for McGuinness's vision for Donegal football.
The third in the McGee trinity from Gaoth Dobhair, Peter, has recently been called up to the panel and was meant to line out against Mayo in the recent challenge game, but an injury in the warm-up curtailed that plan. He has been mooted as a surprise possibility, but on the face of it that seems a long shot.
Gallagher's Achillies injury has severely hampered his preparation, but the Glenswilly man was Donegal's best and most consistent performer in the League and is an expected starter alongside milestone man Rory Kavanagh at centre-field. Of course the absence of Michael Murphy throws up a big quandry and a man who hasn't been mentioned yet is Martin McElhinney – the St Michael's man could well be a feature in the forward division.
The defence, barring any surprises, should go along the tried and trusted trios of McGlynn-Neil McGee-McGrath and Thompson-Lacey-McLoone in front of Paul Durcan. Eamon McGee's recent injury, the player admitted last Friday, has scuppered his chances of getting in, but Declan Walsh has come into the frame, but it would be a big call by the management to dislodge what has been a consistent rearguard.
For the first time in 20 years, Donegal enter a summer as champions. Once more, a county expects. But there was a clear message from the group last Friday that the achievements of last year had been parked and the gaze was a collective one into the distance.
"You're never satisfied with what you've won. Last year's win is in the past. It's gone and it's time to look to the future," said Paddy McGrath.
Cavan's fresh outlook gives them an appearance of a danger.
It will take both a monumental effort from Cavan and a an epic collapse by Donegal, however, to earn the Breffni a win. Donegal should have the professionalism, the know-how, desire and firepower to take the win. It could be uneasy for a spell, but Donegal are a more advanced unit. On Sunday, that will be the telling factor.
Verdict: It could be close for a while, but ultimately Donegal to have a handful and a bit to spare.
Posted: 9:19 am May 18, 2012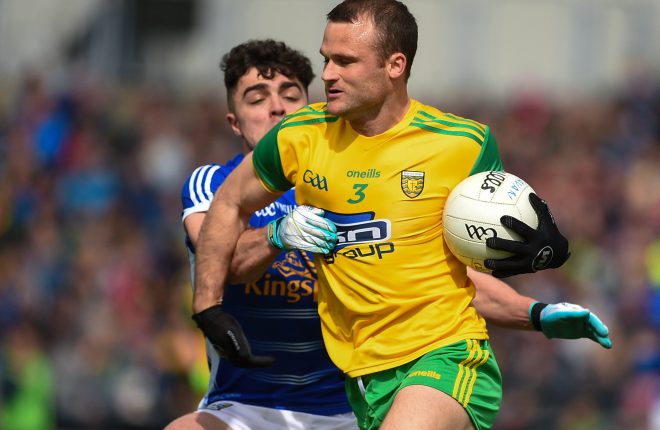 Donegal defeated Cavan by eight points last Sunday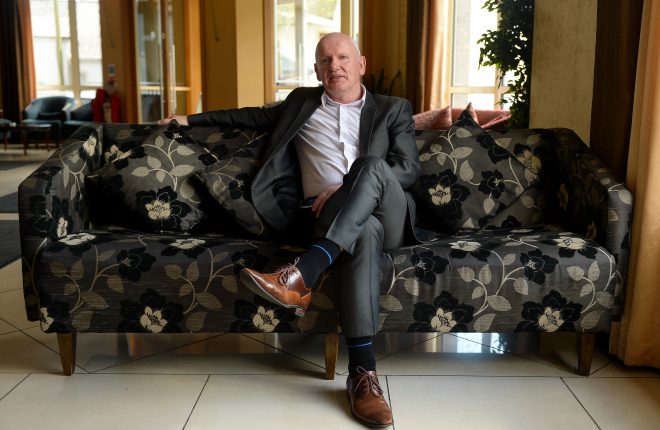 Donegal will take on Cavan in MacCumhaill Park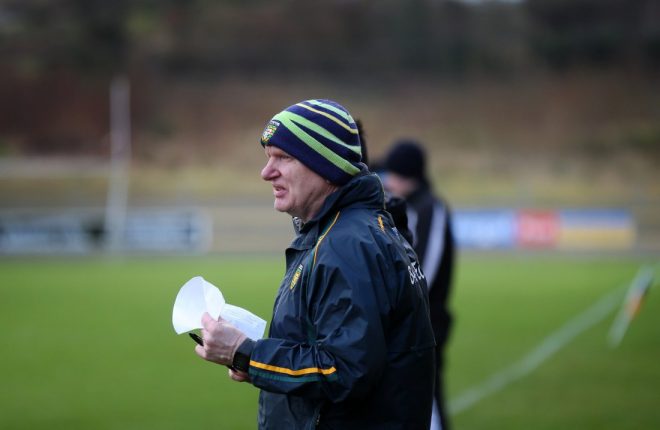 Donegal will face Cavan in the Preliminary Round